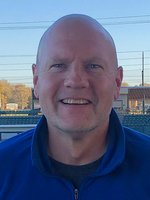 Bill Waliewski
Assistant General Manager
Phone:
708.489.2255 Ext. 2015
E-mail:
Bill will begin his eighth season with the ThunderBolts in 2022 and his 10th year overall in professional baseball. He was named Assistant General Manager on May 3, 2019. Bill uses his extensive sales experience to boost both corporate & group sales for the club. His past experience is important in developing new relationships on the southside of Chicago. He was named Senior Sales Executive when he joined the ThunderBolts in 2014 serving in that role through the 2018 season. He graduated high school from Hinsdale Central High School in 1983. He earned his degree in Sociology at Texas Lutheran University in 1988.
Bill left a 23-year career in commercial real estate in the fall of 2010 to become President of the Joliet Slammers in their inaugural season. Bill was the leader of a staff that had the daunting task of creating a brand new team from the ground up. That 2011 season was a landmark year. The Slammers would win the Frontier League championship in that first season. Waliewski was named Frontier League co-Executive of the Year as well as Minor League Executive of the Year by the Pitch & Hit Club of Chicago. Bill would serve as President of the Slammers through the 2012 season and his leadership laid the groundwork for what the franchise is today.