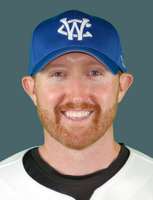 Brian Smith
Field Manager
E-mail:
Brian Smith was named Field Manager of the ThunderBolts on November 12, 2018 replacing Ron Biga. The 2022 season will be Smith's third as Field Manager and sixth coaching at a professional level.
Brian first stint in coaching was from 2009-10 with the summer collegiate Madison Mallards (Northwoods League) as an Assistant Coach. He returned to coaching in 2012 as the Pitching Coach for the University of St. Francis (NAIA) helping the Fighting Saints pitching staff reach the Regional Championships while ranking 17th in the country in team ERA.
Brian Smith's first professional coaching position was as Pitching Coach for the ThunderBolts for three years (2013-15). He oversaw two pitching all-stars, two no-hitters and nine pitchers signed by Major League affiliates. Smith then went back to the Northwoods League, this time as Field Manager of the Rockford Rivets in 2016. He compiled 100 wins in three years (2016-18) with Rockford that included a trip to the postseason in 2017.
The Chicago Ridge native played for Richards High School in Oak Lawn. Smith spent his entire collegiate career at Northern Illinois University (NCAA-D1) as pitcher, first baseman, and outfielder. He led the Huskies in wins during his freshman season in 2005. Brian was a regular in both the starting lineup and starting rotation during his playing time with the Huskies from 2005-09. During the summers of 2006 and 2007 he played for the Madison Mallards of the collegiate wood-bat Northwoods League. For the Mallards, Brian was an All Star in 2006 and led the team in wins in 2007. He was named to Madison's All-Decade team. In 2011 Brian was signed professionally as a free agent by the Joliet Slammers (Frontier League) where he played two seasons. 2011 was especially special for Smith as he finished with a ERA of 1.24 in 40 games with opponents hitting .182 against him helping his club win the Frontier League Championship. Brian retired as a player on January 15, 2013.