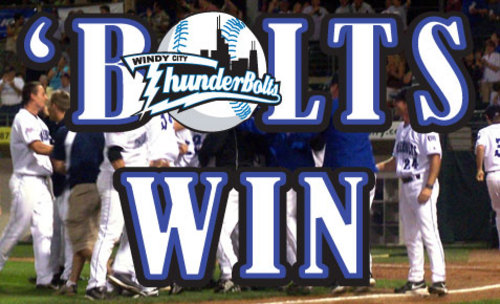 TRAVERSE CITY, MI – The ThunderBolts lost a late lead but came back with three runs in the 11th inning to defeat the Traverse City Beach Bums 9-6 at Wuerfel Park Wednesday night.
The ThunderBolts started the game off well with three straight hits. Chad Cregar's single scored Mike Torres, but Windy City was halted at one run in the first.
Traverse City quickly answered with a run in the bottom of the first as Chase Burch picked up an RBI single.
Windy City reclaimed their lead in a three-run third. With the bases loaded and one out, Zach Aakhus's sacrifice fly scored Chris Wade. Brandon Decker brought home Cregar and Ryan Cuneo on a double to make it 4-1.
After Cuneo singled in the fifth, Aakhus's third home run of the year made it 6-1.
Tyson Corley pitched effectively through six innings but ran into trouble in the seventh. The Beach Bums loaded the bases with no outs and Kyle Eveland's two-run single chased Corley from the game. With Duke Dykeman pitching, Ryan Still's sacrifice fly made it 6-4 and Burch's two-out single scored Eveland to make it a one-run game.
Still 6-5 in the ninth, the ThunderBolts were one out from victory when again Burch came through. His double to center scored Still to send the game to extra innings for the second straight night.
After the Bolts left the winning run on base in the tenth, Cregar walked to lead off the 11th. After Bob Glover bunted him to second, Cuneo singled him home to grab a 7-6 lead. Jareck West's two-run single later in the inning put it away at 9-6.
Michael Click (1-1) earned the win, pitching 1.2 innings out of the bullpen and Scott Mueller (1-4) took the loss after the three-run 11th. Willy Kesler pitched a scoreless bottom of the inning for his second save.
The rubber match between the ThunderBolts and the Beach Bums will be played on Thursday night. Game three will feature Stephen Sauer (6-5, 3.41) for Windy City going against Traverse City's Kurt Wunderlich (First Start). The ballgame is slated to begin at 6:05 CDT at Wuerfel Park and can be heard on sportsjuice.com.

Box Score