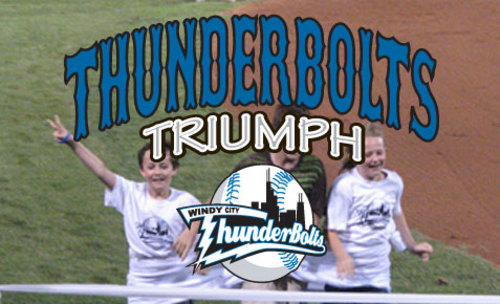 TRAVERSE CITY, MI – The ThunderBolts broke a late tie with a two-run eighth to take the finale at Wuerfel Park Sunday night 6-4 over the Beach Bums.
The Bolts took their first lead of the series in the top of the third inning. Mike Torres singled and made it to second on a wild pitch. He scored on a Chad Cregar base hit.
The Beach Bums quickly tied it up when Chase Burch brought home Brian Heere on a groundout. Heere had singled and reached third on a Kyle Colligan double.
The ThunderBolts took the lead once again the next inning without getting a hit. Mike Mobbs reached on an error and advanced to second on a Matt Grosso sacrifice bunt. A passed ball moved Mobbs to third and he scored on a wild pitch.
They added to the lead in the sixth inning. Zach Aakhus singled and Brandon Decker doubled putting men on second and third with no outs. Mobbs then sent a flyball to left field and Aakhus scored on the sacrifice fly. Leftfielder Brian Heere's throw back to the infield was errant and Decker was able to score all the way from second base on the play, making it 4-1.
The Beach Bums fought back once again. In the sixth, Jeff Flagg hit his league-leading fifth home run of the year and Jon Hurst tied the game with a solo homer in the seventh.
In the eighth, Decker walked for the Bolts with one out and Mobbs doubled him to third. Matt Grosso sent a ball to deep right field that Flagg was not able to catch and both Decker and Mobbs scored to give Windy City the 6-4 lead.
Shane Zegarac and Tyson Corley finished the last two innings to secure the 6-4 win.
Andy Mee (2-0) pitched the seventh inning and picked up his second win while Matt Miller (1-1) took the loss out of the Traverse City bullpen. Corley earned his third save.
Up next for Windy City is a return home for a three-game series against the Washington Wild Things. After a Monday off, the Bolts will begin that set on Tuesday evening at Standard Bank Stadium. It is Ladies Night for the 7:05 first pitch.
Box Score