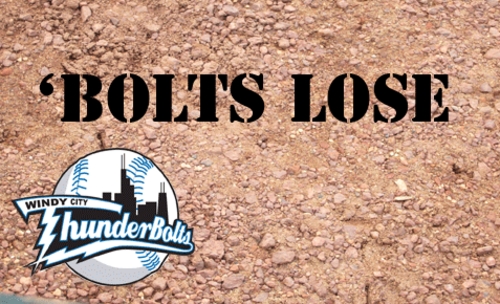 CRESTWOOD, IL – The ThunderBolts were outhit 16-3 on Tuesday morning as they dropped their second straight lopsided game to the Joliet Slammers at Standard Bank Stadium, 9-1.
The Slammers took the lead on the second batter of the game when Brad Netzel homered over the left field wall, and did not trail the rest of the way.
In the second inning, Joliet loaded the bases with two outs and Josh Flores hit a bouncer to third that Nick Kuroczko misplayed, allowing the game's second run to score. Netzel followed that up with a bases-clearing double off the wall and it was 5-0 by the end of the second.
The Joliet offensive attack did not slow down in the third as they put the first four base runners on with three singles and an error. They made it 6-0 on Kuroczko's throwing error after Bobby Leeper's single and starter Matt Costello was removed in favor of Nick Gaudi. Gaudi allowed just one inherited runner to score and went on to pitch three perfect innings.
The ThunderBolts scored their lone run in the seventh when Chris Wade led off with his second walk of the game. Two batters later, Lee Rubin doubled Wade to third. Wade scored on a Nick Kuroczko groundball to first that was mishandled by Kyle Maunus.
Overall, though, the Bolts managed just three hits, including two for Brandon Anderson, against Brian Fowler and two relievers.
The Slammers put the exclamation point on their victory with two runs on five singles in the eighth, with RBI coming from Maunus and David Fox, finalizing the score at 9-1.
Fowler went 6.2 innings in earning the win (4-1) and Costello took the loss.
In the first two games of the series, Joliet has outscored Windy City 17-2 and outhit the Bolts 32-7.
The finale of the three-game set is scheduled for Wednesday night at 7:05. Matt Jernstad (3-6) will take the mound for Windy City against Joliet's Billy Petrick (4-6). It is $1.00 Wednesday at Standard Bank Stadium meaning hot dogs and soda will be just a buck all game. The game can be heard on SportsJuice.com.
Box Score