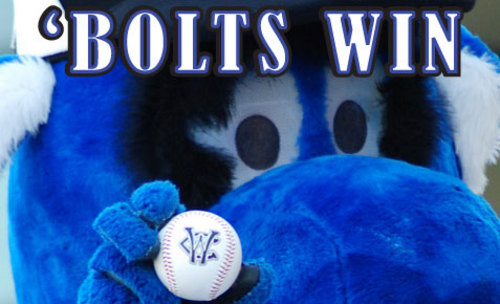 Mike Mooney had two RBI and two big defensive plays in his second Windy City game as his ThunderBolts put away the Kalamazoo Kings late in a 14-3 win in the finale at Homer Stryker Field in Kalamazoo.
The Bolts took a three-run lead in the first inning. Mike Mooney picked up his first ThunderBolt RBI on a single that brought home Brandon Anderson. Zach Aakhus and Pete Paris each hit sacrifice flies for the next two runs.
The advantage was short-lived, however. Kris Miller hit a two-run second inning home run and the Matt Greener's sacrifice fly in the third tied the score at three.
The Kings had a chance to take the lead in the fourth inning when, with one out and a man on first Bryan Marquez doubled to left. Jeff Helps tried to score on the play, but Mike Mooney threw him out at the plate for the second out of the inning. The next batter, JJ Sferra singled to left and Marquez tried to score on the play. But once again, Mooney threw a strike to Aakhus and nailed his second consecutive runner at home to end the inning.
In the top of the fifth, the Bolts got the game-winning runs on RBI singles from Mooney and Paris. The Kings threatened one more time. Richard Barrett walked the first two seventh-inning hitters before being pulled for Tom Mueller. After a double steal, the tying run sat at second base with no outs, but Mueller got three straight hitters to pop out to end the scare.
Windy City put the game away after that. They scored four runs in the eighth and five in the ninth. Highlights from those innings included Jim Calderone's first professional hit and a two-run Tim Jobe single.
Barrett picked up the win, going six-plus innings and allowing three runs. He is 4-0 with Windy City, 6-2 overall. Josh Whitlock gave up five runs in five innings for the loss (1-10).
After a Monday off, the ThunderBolts are back in action at home on Tuesday night to begin a three-game home stand against the Evansville Otters. Tuesday's game begins at 7:05. Sean Toler (4-0) will get the start for the Bolts. The game can be heard on Sportsjuice.com.