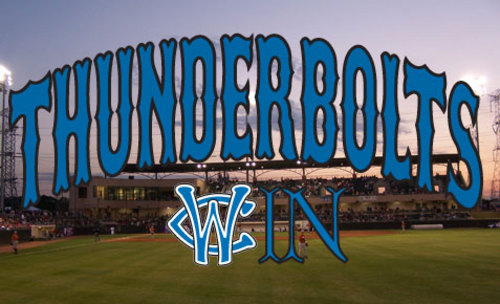 Dustin Pease tossed a three-hit complete game and the Windy City ThunderBolts scored seven runs in the final three innings as they opened a six-game roadtrip with a 9-1 win over the Gateway Grizzlies.
Windy City got single runs in each of the first two innings on an error by the catch Jon Quigley and an RBI double from Gilberto Mejia for a 2-0 lead. Gateway would get a run back in the bottom of the second inning as with Joe Agreste on first, Alex Kerins lifted a ball over the head of Guillermo Martinez at short. Hampered by the setting sunlight, Damian Walcott was unable to find the ball as it rolled to the fence allowing Agreste to score, slicing the Bolts lead to 2-1.
The ThunderBolts would start to pull away in the seventh inning as with runners on first and second, Gilberto Mejia singled back through the middle to plate Vinnie Scarduzio and move Damian Walcott to third. Walcott would come home on a sacrifice fly by Guillermo Martinez for a 4-1 Windy City lead.
The lead would be stretched in the eighth on a three-run homer by Robert Perry and the Bolts would put the final stamp on the scoring on a J. T. Restko homer in the ninth, a two-run shot.
As good as the offense was, Dustin Pease (8-3) needed very little of it. The left-hander was brilliant allowing only three hits in his second straight complete game effort. He walked one and struck out a season high 11. It was the third 10+ strikeout game of his career. Paige Dumont (4-2) pitched well, but took the loss for Gateway.
The second game at Gateway features Ross Stout (7-2, 2.37) on the mound for the ThunderBolts against Nathan Melek (4-5, 4.81) for the Grizzlies. . First pitch is set for 7:05 p.m. with the pregame show beginning at 6:45 on sportsjuice.com. For information or tickets, call 708-489-BALL or visit the team's website at
www.wcthunderbolts.com