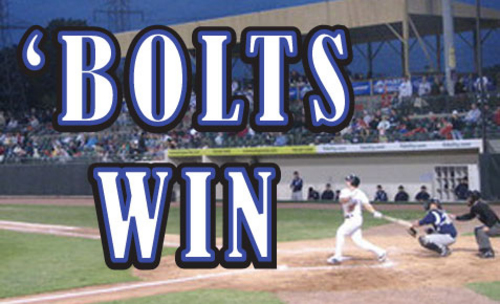 Vinnie Scarduzio went 3-for-3 with a homerun and the Windy City ThunderBolts bullpen shut down an Evansville rally as the ThunderBolts won their fourth straight game, downing Evansville 6-4.
Windy City would crack the scoreboard with the initial tally of the game on a Vinnie Scarduzio homer in the second inning for a 1-0 lead. The Bolts would push the lead in the fifth inning, scoring three runs as with two on, Gilberto Mejia doubled to score Scarduzio. Guillermo Martinez came up next and singled home Wilson Matos and Mejia to make it 4-0.
This seemed like they would be easy for Windy City as they tacked on two more in the sixth inning on a double by Scarduzio scoring Pete Paris and a single by Matos to score bring home Scarduzio to stretch the ThunderBolts lead to 6-0.
Evansville had other plans however, as they plated four runs in the eighth inning off a trio of relievers, the big shot being a two run single by Cameron Satterwhite, slicing the Windy City lead to 6-4. Nick Hall would come in and shut the door on the Otters striking out Tyler Diamond and Josh Howard to end the eighth inning. Dylan Axelrod, reprising his early season role as closer came in and pitched a scoreless ninth to preserve the victory.
Tyler Kelsey (5-4) got the win going five shutout innings allowing two hits. Axelrod earned his sixth save of the year. Kyle Dahman (0-1) allowed all six ThunderBolts runs in 5.1 innings taking the loss.
The second game of the Evansville series comes up on Monday morning with a special 11:05 a.m. start time for Stitch and Pitch Day at Standard Bank Stadium. Brandon Garner (2-2, 6.08) will get the start for Windy City against Nick Utley (3-3, 4.93) for Evansville. The game will air on 88.3 FM, WXAV with coverage starting at 10:45 a.m. For information or tickets, call 708-489-BALL or visit the team's website at
www.wcthunderbolts.com