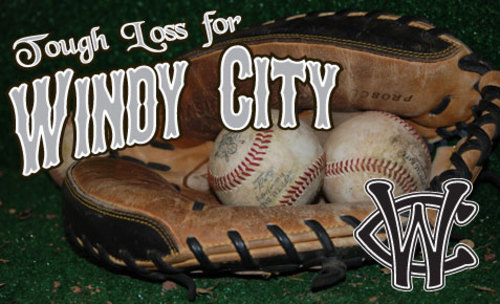 Gateway scores late to take series
The Gateway Grizzlies scored an unearned run in the bottom of the seventh inning that proved to be the difference in a 9-8 win over the Windy City ThunderBolts.
Gateway hit the ball hard against Dylan Axelrod in the bottom of the first inning as Brandon Peters, Charlie Lisk and Chad Rothford all homered to put the Grizzlies up 4-0.
The ThunderBolts launched their attack in the second as J. T. Restko singled and Wade Lamont doubled to put runners on second and third with no one out. Tom Vesely looked like he might be able to get out of the inning as he struck out the next two batters, but Robert Perry lined a first pitch single into right, scoring both runners cutting the lead in half. Dan Jordan stepped to the plate and blasted a homer that caromed off the glove of Jareck West in right-center to tie the game at 4-4. Later in the inning, Guillermo Martinez singled home Gilberto Mejia who has singled and stole second, putting Windy City up 5-4.
It would stay that way until the bottom of the fourth until Brandon Peters came up with two on and launched his second homer of the night to put the Grizzlies back on top by two. The ThunderBolts battled back in the next inning as Guillermo Martinez reached on a bunt single in front of Vinnie Scarduzio's seventh homer of the season, tying the contest at 7-7.
Gateway took the lead back in the eighth inning as on a 3-2 count with two outs, Charlie Lisk hit a long homerun to leftfield for an 8-7 Gateway edge. The Grizzlies would score an unearned run later in the inning for a 9-7 advantage.
Windy City led off the ninth in strong fashion as Dan Jordan hit his second homer of the game, the 17th of the series between the two teams, to cut the lead to 9-8. Gilberto Mejia came up next and reached on an error and stole second before moving to third on a wild pitch. With Nate Hall pinch-hitting, Hall took ball four. Trying to catch Gateway napping, Mejia broke for the plate and was thrown out on a close play for the second out of the inning. After an intentional walk to J. T. Restko, Joel Boeschen was able to get Zach Aakhus to end the game.