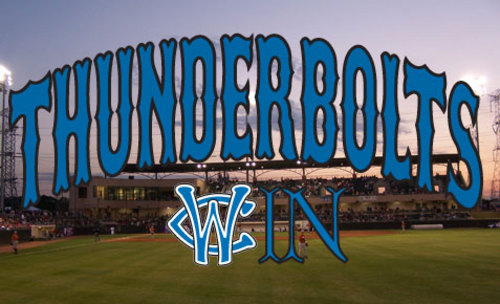 The Windy City ThunderBolts cranked three homers and Tyler Kelsey struck out a career high nine batters as the Bolts took down the Gateway Grizzlies 10-6 in front of 5,249 at GCS Ballpark in Sauget, IL.
Just as they did the previous evening, Windy City scored two runs in the top of the first inning on an RBI double from Vinnie Scarduzio and an RBI single from Nate Hall. Gateway countered with a pair in the bottom of the inning on hits from Charlie Lisk and Joseph Scaperotta.
The Bolts started off the second well with a single by Robert Perry. Two batters later, Perry moved to second on a wild pitch and third on a passed ball before scoring on a Gilberto Mejia single. Guillermo Martinez came up next and lifted his first homer of the season out to right-center for a 5-2 Windy City advantage. For Martinez, it was his first homer since July 28, 2007 while playing for Greensboro against Delmarva.
Windy City gave it right back, however, as errors in the bottom of the inning hurt the Bolts with a pair of miscues leading to two Grizzlies runs, chopping the lead to 5-4. The top of the third saw more scoring as with one out, Wade Lamont walked. Wilson Matos came up and hit a homerun for the third straight night, pushing the WC lead to 7-4.
After that homerun, the pitchers settled in and the game remained at 7-4 until the bottom of the sixth when Jareck West led off with a broken bat, infield single. Brad Thoma followed with a wall-scraping homer to right, cutting the lead to 7-6. Windy City answered immediately as Wade Lamont hit a moonshot to right in the top of the seventh, clearing the back wall, for an 8-6 Bolts advantage. WC would push the lead to 10-6 in the ninth as with two outs, Dan Jordan singled home Wilson Matos and Robert Perry.
Tyler Kelsey (4-3) got the win going five innings allowing four hits and three earned runs, striking out a career high nine. Mark Brackman (2-5) took the loss allowing seven runs on nine hits in three innings.
Windy City wraps up their series against Gateway with 6:05 game on Sunday as Dylan Axelrod (1-0, 1.61) starts for the Bolts against Tom Vesely (0-2, 4.55) for the Grizzlies. The game will air on WXAV with Bolts Backtrack, a 15-minute week in review show starting at 5:30. Windy City will return home for six games against Kalamazoo and Traverse City starting on Tuesday, July 7. For information or tickets, call 708-489-BALL stop by the Standard Bank Stadium ticket office or go to the team's website at
www.wcthunderbolts.com
.