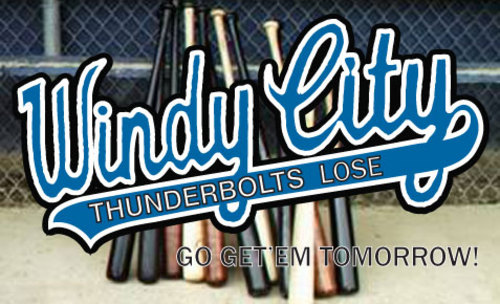 The River City Rascals scored seven runs over the final three innings of the game in defeating the Windy City ThunderBolts 10-8.
Windy City took their first lead of the series in the first inning as with the bases loaded and one out, Bryan Cook was hit by a pitch forcing home Gilberto Mejia for a 1-0 Bolts edge. Nate Hall came up next and hit a sacrifice fly to plate Vinnie Scarduzio for a 2-0 advantage.
The Rascals cashed in on a few free baserunners in the fourth inning. With a run already in, walks and hit batsmen loaded the bases before Scott Houin blooped a jam job single into center, scoring a pair for a 3-2 River City Lead.
The ThunderBolts were able to tie the game in the sixth on a long homerun from Bryan Cook, knotting the contest at 3-3. However, as things had gone in the previous two games, as soon as the Bolts scored a run, River City scored in the bottom half of the inning as the Rascals brought home three runs to take a 6-3 lead.
The teams then traded runs as River City scored a run on a bloop single from Kevin Reynolds. The next half inning, J. T. Restko led off with a no-doubter shot to left to make it 7-4 RC. River City seemed to put the game away in the bottom of the eighth as they were able to score three run to take a 10-4 lead.
As they have all season, however, Windy City refused to acknowledge the presumed defeat as they stormed back in the ninth scoring four runs, but it was not enough as Josh Lowey caught Guillermo Martinez looking for the final out of the ballgame.
The win went to Chris Ingoglia (4-2) who after a rough first inning, settled down to pitch seven strong innings in getting the victory. Matt Jernstad (2-1) gave up three runs in 2.1 innings taking the loss.
The ThunderBolts continue their roadtrip at Evansville on Wednesday with Tyler Kelsey (3-2, 4.32) on the mound for Windy City against Dustin Renfrow (1-1, 4.55) for the Otters. All three games of the Evansville series will air on sportsjuice.com. For information or tickets, call 708-489-BALL stop by the Standard Bank Stadium ticket office or go to the team's website at
www.wcthunderbolts.com
.