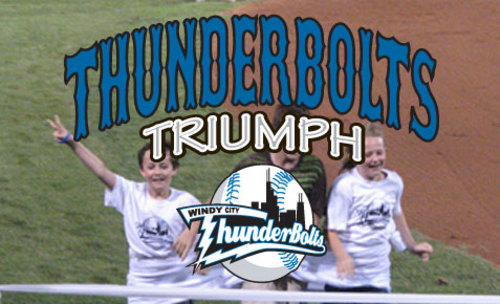 The Windy City ThunderBolts raced out to a four run lead in the first inning-and-a-half, cruising to a 6-2 win over the Rockford RiverHawks.
The ThunderBolts got things going well in the first inning as Gilberto Mejia led off with a single, followed by a walk to Tyler Farrar. Two batters and a double steal later, J. T. Restko lined a ball into right field for a double, scoring both runners for a 2-0 lead. Windy City would increase the lead in the third on an RBI groundout from Mejia and a passed ball allowing Damian Walcott to score for a 4-0 ThunderBolts edge.
Rockford got a couple of runs back in the second on a two out RBI double from Ben Blumenthal to make it 4-2. Much like the night before, once the second inning ended, the scoring ceased for the most part as well.
Still 4-2 heading into the ninth, with one out, Gilberto Mejia ledoff with a double and stole third. With a 2-1 count on Tyler Farrar, Mejia broke for the plate as Farrar pushed a perfect suicide squeeze bunt down the first base line, scoring Mejia for a 5-2 lead. Next up was Vinnie Scarduzio who bashed a solo homer to the opposite field for a 6-2 ThunderBolts edge.
Dustin Pease (3-1) was fantastic for the ThunderBolts going a season long 5.2 innings allowing three hits and two runs, walking just one and striking out seven. Rob Neigebauer (0-3) allowed four runs, two earned over 5.2 innings in the loss. Billy Petrick pitched 2.1 scoreless innings allowing just one infield hit in holding the game for the Windy City. Dylan Axelrod pitched a scoreless ninth in a non-save situation to preserve the victory.
With his 3-for-5 performance in the game, Mejia extended his hitting streak to 16 games, tying Brandon Anderson of Kalamazoo for the longest in the Frontier League this season.
Windy City continues their six game road trip at Southern Illinois Friday through Sunday. Ross Stout (1-0, 3.86) goes to the hill for the ThunderBolts against Chris Wiman (2-0, 1.80) for the Miners. Friday's game will be on sportsjuice.com. You can also follow the ThunderBolts on Facebook and Twitter or for information or tickets, call 708-489-BALL stop by the Standard Bank Stadium ticket office or go to the team's website at
www.wcthunderbolts.com
.