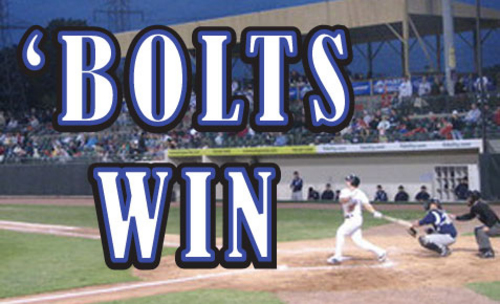 The Windy City ThunderBolts scored seven runs in the first inning only to see the Lake Erie Crushers nearly come all the way back before holding on for a 10-7 win.
The ThunderBolts started off hot in the ballgame against a wild Crushers starter Darwin DeLeon. The lefthander walked five batters and surrendered six runs, lasting a third of an inning. Nick Tisone came in to relieve and allowed two hits, a walk and a run of this own as Windy City took a 7-0 lead into the bottom of the first.
After Lake Erie cracked the scoreboard in the bottom of the third, Windy City scored a pair in the top of the fourth on an RBI double by J. T. Restko and a sac fly off the bat of Nate Hall to make a 9-1 WC. The Crushers got two in the fourth on a Jodam Rivera single to make it 9-3. The teams traded runs later in the game to keep it at what seemed to be a safe six-run lead. Safe it was not, however, as the advantage was cut in half in the seventh as Wayne Bond clocked a three-run homer to left to cut the ThunderBolts edge to 10-7
The Bolts were able to find a couple of pitchers in the pen however, to hold the Crushers in check over the final two innings as Matt Jernstad went through Lake Erie in order in the eighth and Dylan Axelrod shut the door in the ninth.
In the wild game, the win went to Jernstad (2-0) with Axelrod picking up his second save. Darwin DeLeon (0-1) took the loss for Lake Erie.
Windy City now heads home for three games against the Midwest Sliders of Ypsilanti. Ross Stout (0-0, 5.79) will get the start for Windy City against Mike Penn (2-0, 5.06) for the Sliders. The first game of the series is a Fill 'R Up Friday on June 5 against the Midwest Sliders. For information or tickets, call 708-489-BALL stop by the Standard Bank Stadium ticket office or go to the team's website at
www.wcthunderbolts.com
.