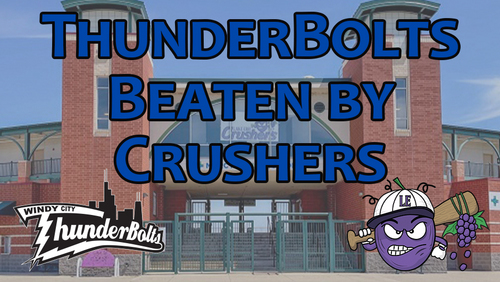 AVON, OH – The ThunderBolts were unable to hold a ninth-inning lead Thursday night as they dropped their third straight decision to the Lake Erie Crushers 8-7 in ten innings at Mercy Health Stadium.
The Crushers (45-42) took an early lead thanks to a Casey Combs sacrifice fly in the second inning but the ThunderBolts (31-55) tied them up in the fourth. Jake Boone singled, stole second and came home on a Peyton Isaacson base hit. Isaacson finished the game with three hits and three runs batted in.
Lake Erie reclaimed the lead on a Sean Cheely RBI double in the fifth but again that lead was short lived. The Bolts broke through with a five-run inning that gave them a four-run edge. Isaacson started the damage with a two-run double. He scored on a Jonathan Nieves single. Later in the frame, Kole Kaler doubled home a pair of runs to make the score 6-2.
That was as big as the lead would reach. Lake Erie chipped away over the next few frames. DJ Stewart started with a solo homer in the bottom of the sixth. Connor Owings hit an RBI single as part of a two-run seventh.
The Bolts got some insurance on a Kaler sacrifice fly, making it 7-5 in the ninth but the Crushers kept coming. With two outs in the bottom of the ninth, Kenen Irizarry tied the score with a two-run double. In the tenth, the ThunderBolts did not score. Najee Gaskins hit an RBI single for Lake Erie to give them the 8-7 win.
Alexis Rivero (2-1) pitched a scoreless inning for the win. Layne Schnitz-Paxton (3-6) blew the save and gave up the run in the tenth for the loss.
The ThunderBolts finally return home for the first time in 12 days as they take on the Joliet Slammers on Friday night. WGN-TV producer Jeff Hoover will be honored at the game, which will be followed by fireworks. First pitch is scheduled for 7:05 and the broadcast can be found through wcthunderbolts.com.