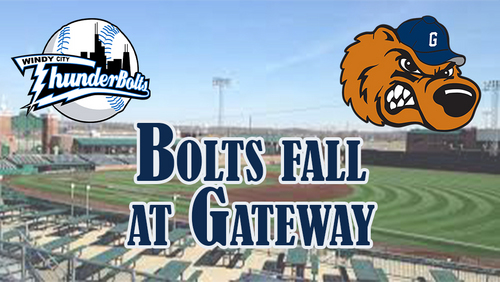 SAUGET, IL – After striking first and staking an early 1-0 lead in the 2nd inning, Windy City (30-52) pitchers struggled through a rough night at GCS Ballpark, dropping game two of the series by the score of 13-6 at the hands of the Grizzlies (39-44).
The ThunderBolts got the scoring started early in the game. After back-to-back hits with one out in the visiting half of the second, Peyton Isaacson reached on a throwing error by the pitcher Steven Ridings after hitting a comebacker to the mound. The mishap led to the first run of the night and gave the Bolts a 1-0 advantage. From there, however, Gateway cruised.
The Grizzlies took advantage of 12 bases on balls and pounded out 13 hits to overcome the early deficit and defeat the Bolts by the final of 13-6. Isaac Benard had a big night at the plate for the Grizzlies, going 3 for 5, scoring 3 runs, knocking in 3, and ending the game just a triple shy of the cycle.
Bolts' starter Miguel Ausua (L, 2-7) battled control issues all night long, needing 81 pitches to get through three innings of work. Manager Brian Smith was forced to tap into his bullpen early, and the combo of Ryan Miller, Daniel Kight, Brett Smith, and Dazon Cole couldn't keep the Grizzlies off the board again until the 8th inning.
Windy City's offense on the night was highlighted by two solo home runs in the 6th inning, Bren Spillane's 10th of the year and Peyton Isaacon's 8th. The Frontier League leader in stolen bases, Brynn Martinez, also added another swipe to make it an even 40 on the season.
The Thunderbolts' 9 game road-trip continues Sunday evening, with first pitch against the Gateway Grizzlies in Sauget scheduled for 5:45. Windy City RHP Garrett Christman (2-6, 5.57) will oppose RHP Carson LaRue (3-4, 4.75). Broadcast information can be found at wcthunderbolts.com.