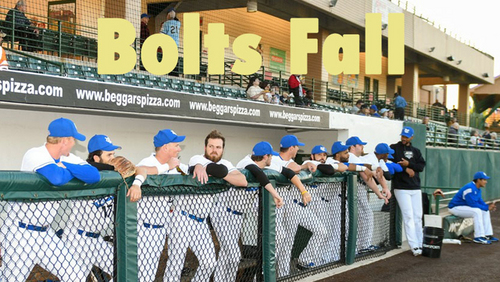 CRESTWOOD, IL – The ThunderBolts were unable to get their offense untracked and win their third straight game as they fell to the Schaumburg Boomers 5-1 in the opener of a four-game series Friday night at Ozinga Field.
The Bolts (28-46) managed only one hit over the first six innings off of Schaumburg starter Aaron Glickstein but Jack Alkire kept the game close.
Alkire struggled with his command throughout the game but pitched out of trouble throughout his time in the game. Despite six walks, he allowed only two runs over five innings as the Boomers (41-33) left nine men on base over those frames.
It wasn't the walks but the long ball that got the scoring started. In the top of the third, Mike Hart hit a leadoff home run to give Schaumburg a lead they would not relinquish. They made it 2-0 when Alec Craig hit an RBI single with two outs in the fifth.
The ThunderBolts cut the lead in half in the seventh as Dan Robinson doubled and later scored on a wild pitch.
That was all the offense the Bolts could muster. The Boomers tacked on two insurance runs in the ninth on a two-run shot from Hart, his second homer of the night.
In the bottom of the ninth, Windy City put runners at second and third and had the tying run in the box with one out but they were unable to score as Darrell Thompson wrapped up his 11th save.
Glickstein (6-4) gave up a run over seven innings for the win and Alkire (1-5) took the loss.
The series continues at 6:05 Saturday night. Ozinga Field will be hosting Elvis Night featuring a pre-game performance from John "Elvis" Lyons at 4:15. Bryan Ketchie (3-5, 5.83) takes the hill for the ThunderBolts against Schaumburg's Jumpei Akanuma (4-0, 1.89). The broadcast can be found through wcthunderbolts.com.