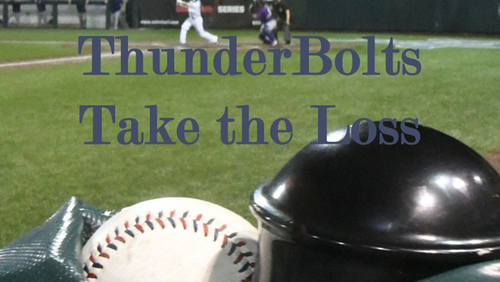 SCHAUMBURG, IL – The ThunderBolts fell into an early hole Sunday night and were unable to dig themselves out of it in a fourth straight loss. They fell to the Schaumburg Boomers by a 9-3 final at Wintrust Field.
Schaumburg (38-32) got the ball rolling offensively in the second inning when Nick Oddo hit a two-run homer. The Boomers never trailed. They tacked on single runs in the third and fourth on a wild pitch and a fielder's choice.
The ThunderBolts (26-44) cracked the scoreboard for the first time in the top of the fifth. Payton Robertson singled and advanced to second on a wild pitch. Matt Morgan came up with an RBI single, cutting the deficit to 4-1. The Bolts went on to load the bases in the inning but couldn't add any more runs.
After that, Schaumburg scored five unanswered runs over the next three innings. Blake Berry had two RBI hits and a seventh-inning rally saw four runs score on three hits and three walks.
Brynn Martinez singled for the ThunderBolts in the top of the ninth and Brian Fuentes hit a two-run homer but the late burst wasn't enough to overcome the big deficit. Fuentes finished with three hits in the loss. The only time he was retired was a flyout that was just inches from the wall.
Jumpei Akanuma (4-0) pitched well and secured the win for Schaumburg. He allowed just a run on five hits over seven innings. Miguel Ausua (2-6) gave up five runs (four earned) in five innings pitched and took the loss.
The ThunderBolts return home to begin a seven-game home stand on Tuesday night against the Evansville Otters. Garrett Christman (2-4, 5.80) will make the start for the Bolts. It is Value Tuesday at Ozinga Field. All tickets and hot dogs will sell for just $2. First pitch is scheduled for 7:05 and the broadcast can be found through wcthunderbolts.com.