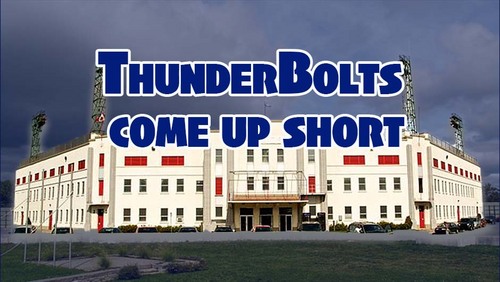 TROIS-RIVIÉRES, QUEBEC – The Trois-Riviéres Aigles plated runs in each of the first two innings and the ThunderBolts were unable to get their offense rolling in a 5-1 loss in game two of a three-game set at Stade Quillorama Wednesday night.
In the bottom of the first inning, Canice Ejoh reached on an error. He moved to second on a wild pitch and scored on a Juan Kelly RBI single. That put the Aigles (33-29) in the lead, which they did not give up the rest of the night.
Elliott Curtis hit the first of three solo home runs of the night for Trois-Riviéres in the second to double their lead.
The ThunderBolts (24-37) made their move in the fourth. Daryl Myers reached on an error and a Joshuan Sandoval single put runners at the corners in front of Dan Robinson, who brought home the only Windy City run on a sacrifice fly.
In the bottom of the inning, Juan Santana hit a solo homer to increase the lead back to two. Late in the game, Trois-Riviéres added insurance as Carlos Martinez hit an RBI single and Connor Panas homered for the second straight night.
The ThunderBolts scarcely threatened after the fourth as they were held to just four hits for the second time of the road trip. In between their two four-hit performances, the Bolts had scored 27 runs over the last two games.
Kevin Perez (3-0) struck out ten and didn't give up an earned run as he secured the win. Kenny Mathews (4-3) allowed three earned runs in six innings and took the loss.
The ThunderBolts will look to end their long road trip on a high note in the series finale on Thursday. Jack Alkire (1-3, 8.35) will get the start for the Bolts against Trois-Riviéres' Sam Poliquin (4-4, 5.50). First pitch from Stade Quillorama is scheduled for 6:05 CDT.