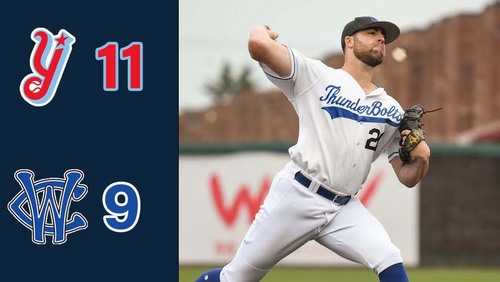 CRESTWOOD, IL – The Florence Y'alls scored in each of the first five innings and the ThunderBolts were unable to come all the way back as they dropped the opener of a four-game series 11-9 at Ozinga Field Tuesday afternoon.
After Florence (20-31) scored a run in the top of the first, the ThunderBolts (20-30) had a quick response. A Dan Robinson sacrifice fly in the bottom of the inning tied the score. That was the last time that the Bolts would be so close as Florence scored one more in the second inning.
It was a third-inning home run from Anthony Brocato that broke the game open. Brocato's three-run shot made it 5-1.
Robinson struck again with an RBI double in the third and new ThunderBolt Matt Morgan contributed an RBI single in the fourth inning but Florence's offense kept piling on. Their five-run fifth inning put the game out of reach. Rodney Tennie, Ray Zuberer and Alberti Chavez each had an RBI hit in the game-clinching rally.
After trailing by eight, the ThunderBolts didn't back down. They scored a run on a Bren Spillane RBI single in the fifth and added three more on Brynn Martinez's team-leading eighth home run of the season in the eighth. After RBI singles from Morgan and Jake Boone in the bottom of the ninth, the Bolts had the tying run on base but Joe Dougherty came out of the bullpen and got a groundout on his first pitch thrown to lock down his sixth save.
Billy Damon (1-2) allowed four runs (three earned) in five innings and picked up the win. Garrett Christman (1-3) gave up ten runs in 4.1 innings and took the loss.
The second of three straight day games will be played on Wednesday morning as the ThunderBolts look to even the series. Miguel Ausua will start game two against Florence's Jeremy Ovalle. First pitch for Big Splash Day II is scheduled for 10:35 CDT and the broadcast can be found through wcthunderbolts.com.