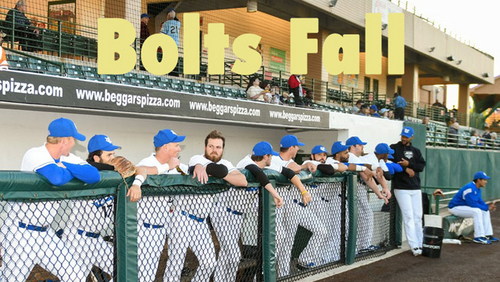 CRESTWOOD, IL – The ThunderBolts carried a lead through most of Friday night's game but the Florence Freedom scored in each of the last four innings to defeat the Bolts 8-5 in the penultimate game of the season at Ozinga Field.
Florence (57-38) scored a first-inning run on a sacrifice fly but the ThunderBolts (41-54) roared back with three runs in the second. Zach Rheams hit an RBI double, Taisei Fukuhara extended his hit streak to 13 with an RBI single and Zach Taylor brought home the third run when he reached on an error.
Kenny Mathews allowed only two hits through the first five innings before the Freedom scored two in the sixth to tie the game. Kevin Whatley tripled to set up RBI singles for Luis Pintor and Caleb Lopes.
Again, the Bolts responded quickly. In the bottom of the inning, Rheams walked and Fukuhara singled before they got runs on a passed ball and a Michael Mateja sacrifice fly.
The Freedom chipped away, scoring single runs in the seventh and eight to tie it at five. Then, after the Bolts left the bases loaded in the bottom of the eighth, Florence won the game with three runs in the ninth.
Pintor's sacrifice fly was the game-winner but Connor Crane and Isaac Benard added RBI singles to put the game away.
Mathews struck out nine with no walks and allowed just two earned runs in six innings but did not take a decision. Ryan Mordecai (3-3) retired all four batters he faced for the win and Colby Blueberg (4-2) pitched the ninth for the Bolts and took the loss.
The season wraps up with the finale against Florence on Saturday night. The ThunderBolts have not yet named a starting pitcher. Chris Amend (0-0, 7.56) starts for Florence. The game will be followed by the SUPER MEGA Fireworks Spectacular. First pitch from Ozinga Field is scheduled for 6:05. The radio broadcast can be heard on WXAV, 88.3 FM and wxav.com.