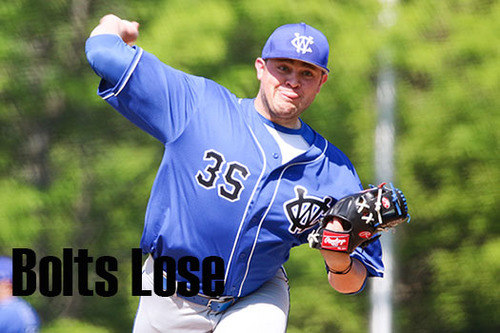 SCHAUMBURG, IL – Gunnar Kines carried a no-hitter into the eighth inning for the Schaumburg Boomers as he defeated the ThunderBolts in the 2016 season finale 6-1 at Boomers Stadium Sunday afternoon.
The Boomers (41-55) broke a scoreless tie with three runs in the third inning. They loaded the bases as Tobias Moreno singled and Mikal Hill and Daniel Hoy each walked. Argenis Aldazoro cleared the bases with a three-run triple.
They added two runs to their lead in the sixth inning. Aldazoro doubled and Mike McClellan singled him in. Kenny Towns's RBI double made it a 5-0 Schaumburg lead.
The ThunderBolts (42-53) got an early baserunner as Ransom LaLonde walked and made it all the way to third base in the first inning but Kines followed that by retiring 19 straight men before hitting Kyle Wood with a pitch in the seventh inning.
Kines retired the first two batters he faced in the eighth inning before starting Beck off with a 3-0 count. Two pitches later, Beck broke up the no-hit bid with his fifth home run of the year, cutting the deficit to 5-1. They managed only one more baserunner in the game.
Schaumburg plated their final man in the bottom of the eighth. James Keller walked and Jordan Dean doubled before Kenny Towns came up with an RBI groundout.
Kines (4-7) allowed just the one total hit over eight innings as he picked up the win. He struck out seven and walked one. Kyle Von Ruden (1-7) allowed five runs in 5.2 innings and took the loss. He struck out three and gave up seven hits.
The ThunderBolts end the season with the loss. They finished the year with a 42-53 record, 1.5 games better than 2015's 41-55. The Bolts will return to Frontier League action in May of 2017. All information regarding the team during the offseason, including the release of the 2017 schedule can be found at wcthunderbolts.com.