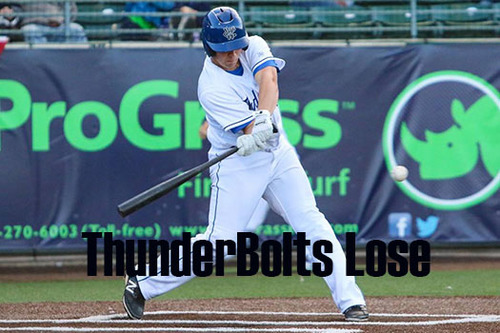 CRESTWOOD, IL – Chase Cunningham threw six shutout innings for the Washington Wild Things as they handed the ThunderBolts a 3-0 loss in the opener of the final three-game set at Standard Bank Stadium this season.
Cunningham and Kyle Von Ruden had a good back-and-forth early as both teams were held scoreless over the first three innings. Washington (45-45) broke the tie with a pair of runs in the fourth. Ricky Rodriguez drew a leadoff walk and David Popkins doubled. Rodriguez would score on a Jimmy Yezzo groundout and Grant Fink's double scored Popkins.
Austin Wobrock hit the first pitch of the fifth inning over the right field wall, his second home run of the year, adding one to the Washington lead.
The ThunderBolts (39-51) did not get a man to third base all night. Their best scoring opportunity came in the fourth inning when Corey Bass reached on an error and Ransom LaLonde singled, putting two men on with one out. Cunningham pitched his way out of it, though, with a strikeout and a groundout.
Cunningham (7-9) picked up the win, allowing only three hits in his six innings while Von Ruden took the loss, allowing five hits and three runs over six innings. He fell to 1-6 despite throwing his fourth quality start out of eight.
The Bolts got good work out of their bullpen in the defeat. Austin Delmotte, Cameron Giannini and Brian Loconsole each threw a scoreless inning. Washington's bullpen did their job as well as Devon Davis worked two innings for his seventh save.
Game two between the ThunderBolts and the Wild Things is Wednesday night. Jake Stolley (1-1, 2.66) will start for the Bolts against Washington's Matt Fraudin (7-7, 3.20). The first 1,000 fans in attendance will receive a Boomer Bank/Tooth Brush Holder courtesy of First Midwest Bank. First pitch from Standard Bank Stadium is scheduled for 7:05 and the broadcast can be heard on WXAV 88.3 FM and wxav.com.