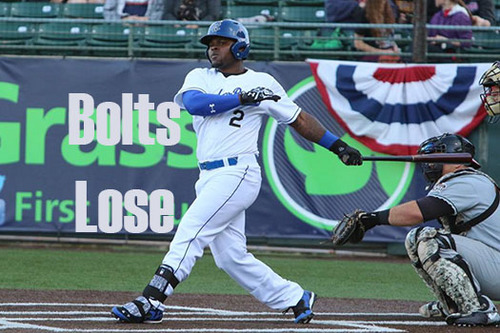 CRESTWOOD, IL – The ThunderBolts' bid for a sweep of the Schamburg Boomers was denied on Sunday as Schaumburg came away with a 3-2 win at Stadnadr Bank Stadium.
Schaumburg (38-52) scored their first two runs very early as their first two batters reached base on the first pitches that they saw. Kenny Towns singled and Argenis Aldazoro doubled. Jordan Dean made the score 1-0 on an RBI groundout and a Mark Nelson sacrifice fly made it 2-0.
Jayson Yano was excellent on the mound after the first inning. Following the two quick hits, he retired seven straight batters. He didn't allow another hit until the seventh inning.
The ThunderBolts (39-50) scored their first run in the third. Larry Balkwill doubled and Tim Zier singled him in to cut the deficit in half.
They tied it up in the fifth. With two outs, John Williams and Zier picked up singles to put runners at the corners. Zier was nearly picked off of first base, but as he avoided the tag, Williams came home to tie the score on a stolen base.
The Bolts tried to take the lead the following inning, but Ransom LaLonde was thrown out trying to score with two outs on a Johnny Eierman single.
The Boomers won the game in the seventh. Dean hit a leadoff double and stood a tthird with two outs when Mikal Hill singled in the winning run.
Kagen Hopkins (5-5) threw seven innings of two-run ball and picked up the win. Yano (0-3) allowed three runs on only three hits over 6.1 innings but took the loss. Dexter Price threw a perfec tninth for his 13th save.
The ThunderBolts' final home series of the year commences on Tuesday against the Washington Wild Things. Kyle Von Ruden (1-5, 3.89) will start for the Bolts against Washington's Chase Cunningham (6-9, 4.32). All tickets at Standard Bank Stadium will be only two dollars for $2 Ticket Tuesday. First pitch is scheduled for 7:05 and the broadcast can be heard on WXAV 88.3 FM and wxav.com.