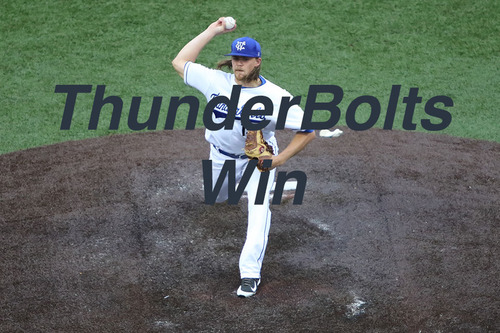 CRESTWOOD, IL – The ThunderBolts broke a 1-1 tie with five unanswered runs in the sixth and seventh innings to win their second straight game, defeating the Schaumburg Boomers 6-1 at Standard Bank Stadium Friday night.
The Bolts (38-49) wasted little time in scoring as Tim Zier led off the bottom of the first inning with a triple. He scored on a Coco Johnson groundout.
Clay Chapman started for Windy City and allowed only one hit in the first three innings before the Boomers (37-51) were able to get to him in the fourth. Doubles for Argenis Aldazoro and Mark Nelson brought home Schaumburg's first run and tied the score at one.
Chapman and Schaumburg's Seth Webster engaged in a pitchers' duel into the sixth when Webster encountered trouble. He had retired 14 of 16 batters before Kyle Wood's one-out single. Corey Bass walked in a 12-pitch at bat and Ransom LaLonde singled home Wood to break the tie. Johnny Eierman walked to load the bases before Taylor Smart's bloop single scored two more runs to make it 4-1.
Cody Keefer singled to lead off the seventh and Johnson picked up his second RBI of the night on a double. Johnson would score on a Wood groundout to wrap up the scoring.
Chapman (8-7) went eight innings for the win. He allowed only three hits, none after the fourth, and struck out seven. Webster (7-9) took the loss. He allowed four runs on six hits and a career-high four walks.
The ThunderBolts and Boomers continue their three-game series on Saturday night. Zac Westcott (0-0, 1.00) will make his first start for the Bolts and Schaumburg will send Scott Schultz (4-6, 5.51) to the mound. The game will be followed at Standard Bank Stadium by the Super Mega Fireworks Spectacular sponsored by Lumina Pyrotechnics. First pitch is scheduled for 6:05 and the broadcast can be heard through wcthunderbolts.com.