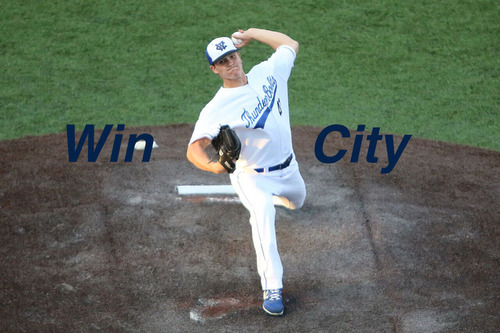 CRESTWOOD, IL – The Windy City ThunderBolts scored five runs on seven hits over the first two innings and cruised to a 7-2 win over the River City Rascals at Standard Bank Stadium Tuesday night.
The Bolts (33-34) loaded the bases in the first inning on two singles and a walk before Johnny Eierman came up. With two outs and an 0-2 count, Eierman singled home Tim Zier and Cody Keefer to put Windy City on the board.
They added three ore runs in the second. Taylor Smart singled and Kyle Wood doubled him in. Wood scored on a Zier single and Corey Bass followed with an RBI double, making the score 5-0.
River City (30-36) had just two hits through five innings but had a chance to score in the fourth. Kyle Gaedele singled and stole second before Josh Ludy flew to center field, where Eierman made a diving catch to save a run. The following inning, the Rascals loaded the bases on walks but again were robbery the Bolts defense. Zier dove to catch a hard liner hit by Johnny Morales to end the inning.
Windy City loaded the bases in the bottom of the fifth inning before Smart hit a popup to the right side of the infield. Smart was out on an infield fly, but Jason Merjano dropped the popup and threw the ball into the stands, committing two errors on the play and allowing two more runs to score.
River City's only scoring was done in the seventh. They got four straight two-out hits, including RBIs from Robby Enslen and Morales.
Brady Muller (3-6) picked up the win, throwing five shutout innings. Joe Pavlovich (1-3) suffered the loss. He allowed seven runs (five earned) in six innings.
The ThunderBolts will look to make it two in a row over the Rascals on Wednesday. Jake Fisher (7-4, 3.84) gets the start for the Bolts against River City's Jake Negrete (0-4, 4.97). First pitch from Standard Bank Stadium is scheduled for 7:05 and if the ThunderBolts win, al tickets will become vouchers to another game. Those not in attendance can hear the broadcast through wcthunderbolts.com.