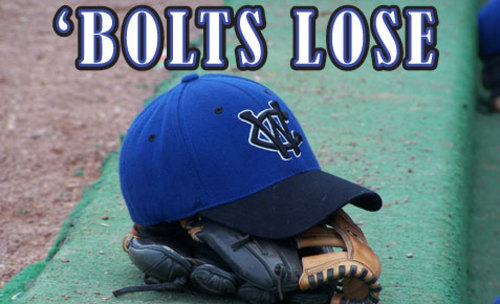 AVON, OH –The ThunderBolts were shutout for the second straight night Friday by the Lake Erie Crushers as they dropped their fourth straight game, 6-0 at All Pro Freight Stadium.
The Bolts had an early scoring chance with two runners on in the first, but Ryan Tufts' line drive was caught by Andrew Davis and they did not score.
Lake Erie scored the game's first run in the third inning. Trevor Stevens led off with an infield single and found his way to third base with one out, when Davis flew out to left, bringing Stevens home.
They added two runs in the fourth. Juan Sanchez doubled and Ryan Hutchison walked. Sanchez scored on a Joey Burney base hit and Hutchison scored on a Stevens sacrifice fly.
Craig Hertler led off the bottom of the fifth inning with a triple and crossed the plate on a wild pitch to make the score 4-0. The Crushers made it four straight innings with a run when they plated two in the sixth. With two outs, Kevin Franchetti walked and Trevor Stevens singled. Hertler and Emmanuel Quiles came up with back-to-back base hits to drive them in.
The Bolts were held to just five hits for the second straight night. Davidson Peguero's fourth-inning double was the only extra-base hit. Their scoreless streak has now reached 23 innings.
Zac Treece (4-3) was the winning pitcher, throwing 5.2 shutout innings. Eli Anderson (1-6) took the loss. He allowed six runs over 5.2 innings.
The ThunderBolts will return home to start a three-game series with the Gateway Grizzlies on Saturday. Daniel Cropper (5-6, 4.89) will start game one for the Bolts against Gateway's Andrew Aizenstadt (1-2, 5.03). There will be a fireworks show following the game. First pitch from Standard Bank Stadium is scheduled for 6:05 and the broadcast can be heard on WXAV 88.3 FM and wxav.com.