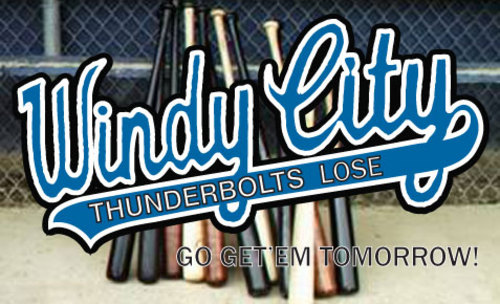 CRESTWOOD, IL—The Windy City ThunderBolts lost a 10-2 game to the Normal CornBelters in game one of a doubleheader at Standard Bank Stadium Wednesday night. Game two was suspended by rain.

Travis Tingle could not make it through the third inning. The CornBelters batted around in the frame and would wind up scoring nine runs. After an Ozney Guillen popup to begin the inning, Normal would have nine consecutive singles.

Tyler Shover singled before Jhiomar Veras reached base. Santiago Chirino began a string of six straight RBI singles. His was followed by one each from Mike Schwartz, Sam Judah, Aaron Dudley, Pat McKenna and Richard Lucas. Guillen would follow with a single of his own before Tingle was lifted in favor of reliever James Ferguson.
Ferguson managed to get the final two outs of the third inning. He would allow another run in the fourth after Dudley singled to lead off the inning and was knocked home on a Guillen fielder's choice.
The ThunderBolts could not get much going in the early innings against Normal's starting pitcher, Corey MacDonald (3-1). The Bolts did not have a hit against MacDonald until the third inning, when Evan Button ripped a two-out double.
Windy City finally got on the board in the fourth when Jon Mestas drew a walk. He would come in to score on an RBI double off the bat of Davidson Peguero.
Peguero would have the only other RBI of the night for the ThunderBolts. Kyle Robinson singled to lead off the sixth, moved to second on a passed ball and reached third on a fielder's choice. Robinson came in to score on a Peguero groundout.
Corey MacDonald (3-1) was the winning pitcher while Tingle (4-2) took the loss.

The ThunderBolts and CornBelters began game two of the doubleheader, but it could not be played to completion because of rain. The Bolts took a 1-0 lead in the bottom of the first inning after a Button leadoff infield single. He moved to second on a sacrifice, stole third base and crossed the plate on a Robinson groundout.
Play was suspended after Josh Spence completed a scoreless top of the second. The game will be resumed on Thursday at 5:05 p.m. ahead of game two of the doubleheader. Daniel Cropper (2-5, 6.07) is scheduled to start the second game on Thursday against Normal's Mike Devine (1-4, 4.83). A special Independence Day fireworks show will follow the game two, and both games will be broadcast live on WXAV 88.3 and wxav.com.