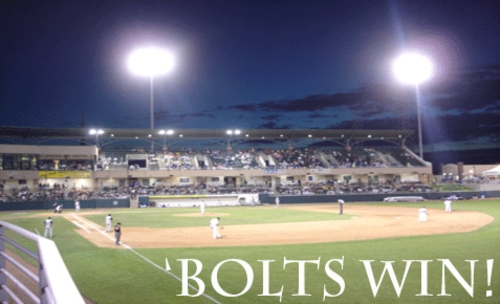 CRESTWOOD, IL – The ThunderBolts split a doubleheader with the Rockford Aviators Sunday afternoon, dropping game one 6-4 before rebounding to win game two 7-4.
Game one was a resumption of Saturday night's game that was suspended after a half-inning of play with the Aviators leading 2-0. When play was continued Sunday, the ThunderBolts immediately tied the score. Jon Mestas was hit by a pitch and Mike Torres and Kyle Robinson both walked to load the bases. The Bolts got runs on a sacrifice fly from Evan Button and a Ryan Soares RBI single.
The Aviators broke the tie in the fifth on Kalaika Kahoohalahala's run-scoring double. Kahoohalahala came up big again in the seventh, hitting a two-run homer to make it 5-2.
It was 6-2 in the eighth when the Bolts made their run. Andrew Brauer and Garrett Carey singled and both scored when Torres hit into a fielder's choice that featured a throwing error. Kyle Robinson was set to come up next, but was ejected before stepping into the batter's box and Logan Odom struck out pinch-hitter Doug Joyce to end the threat.
Cole Green (2-3) allowed two runs in six innings to pick up the win and Jake Fisher (2-6) took the loss, giving up two earned runs in six innings. Gerardo Sanchez secured his ninth save.
The ThunderBolts struck first in game two, getting a first-inning RBI single from Jon Mestas.
Rockford erased the lead with a run in the second and one in the third. Tyger Pederson came up with a two-out RBI for their first run and Jeff Kremer did the same for their second.
Windy City went back ahead with a two-run third. Joyce singled and Torres walked before Robinson singled Joyce home. Mestas's second RBI single of the day scored Torres to make it 3-2 in favor of the Bolts.
The Aviators came right back again with a Brian Bistagne RBI double in the fourth. Bistagne scored on a double play groundout to put Rockford back in front 4-3.
The ThunderBolts took the lead for good in the fifth. After Torres singled and Robinson doubled, Mestas hit another RBI single and Robinson crossed the plate on a Ryan Soares RBI fielder's choice. The Bolts put the game away in the sixth on Evan Button's two-run single, scoring Ty Stetson and Joyce.
Victor Larez (2-1) pitched two innings out of the bullpen for the win and Kyle Hassna (0-1) allowed two runs for the loss. Daniel Carela earned his fourth save.
The Bolts will continue their six-game homestand on Tuesday with a 7:05 start against the Normal CornBelters. Travis Tingle (4-1, 2.55) will start game one against Normal's Mike Devine (1-4, 4.83). The broadcast can be heard on meridix.com.