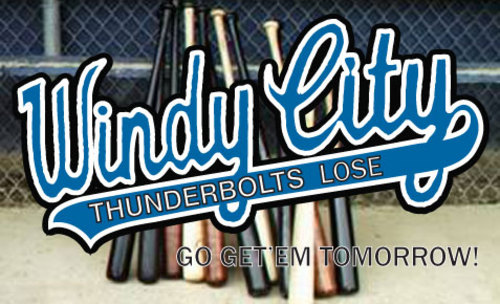 CRESTWOOD, IL – The ThunderBolts suffered their first sweep of the year as the River City Rascals defeated them for the third straight day 6-3.
The Rascals scored the game's first three runs in the top of the third, starting the inning with four straight hits. Brian Hansen started with a bunt single and advanced on a wild pitch before Zach Kometani singled him home. Kometani scored on a Hector Crespo double. After Eric Williams singled to put runners at the corners, Taylor Ard's sacrifice fly made it 3-0.
The ThunderBolts got one back in the bottom of the inning. Andrew Brauer and Jon Mestas led off with back-to-back singles and Mike McGuckin flew out to left field, scoring Brauer from third.
River City extended their lead with two runs in the fourth. They loaded the bases with no outs before Kometani hit a grounder to third. Mestas threw home and got the force, but McGuckin's throw to first sailed into right field allowing two runs to score.
It remained 5-1 until the eighth inning, when the ThunderBolts finally got to River City starter Ray Hanson. Mike McGuckin walked and Ty Stetson singled to chase Hanson from the game and Mike Torres drove home McGuckin on a single to make the score 5-2. Kyle Robinson's base hit made it 5-3, but the Bolts could go no further, stranding two.
Kometani's solo home run in the top of the ninth finished the scoring, making it 6-3. The ThunderBolts put two men on base in the ninth but did not score.
Hanson (3-0) pitched well over 7.1 innings, earning the win and Eli Anderson, in his pro debut, gave up three earned runs in six innings for the loss. Gabe Shaw picked up his seventh save.
The ThunderBolts will begin a three-game home series with the Gateway Grizzlies on Friday. Travis Tingle (1-1, 3.00) will make the start for Windy City against Gateway's Tucker Jensen (3-0, 2.66). Friday will be a pint glass giveaway at Standard Bank Stadium as well as discounted beer for Budweiser Fill 'R Up Friday. Fans not in attendance can hear the broadcast meridix.com.