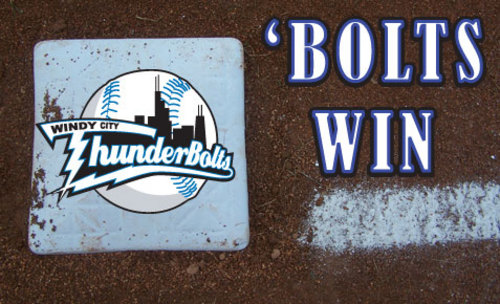 CRESTWOOD, IL—It may have taken 16 innings, but a winner was decided Thursday night as the ThunderBolts defeated the Miners in dramatic fashion 2-1 at Standard Bank Stadium. Solid pitching was the story all night long as both teams went scoreless for ten straight innings. It was the first time Windy City (20-29) won a series against the Southern Illinois Miners (27-21) since 2009.
The ThunderBolts were first to score in the 3rd inning when Miles Walding led off with a single. Ryan Soares provided a two-out base hit to put Windy City on top 1-0.
The Miners answered in the top of the fifth. Cannon Lester was hit by a pitch and moved to third on a Shane Street single. Lester scored on a double play.
The game remained tied at one into the ninth when the Miners had their next great scoring chance. They put a runner at third with one out but Michael Click came out of the bullpen to strike out Jason Ganek and Cory Harrilchak and preserve the tie.
The Bolts also had a chance in the ninth, putting runners at the corners with one out. With Miles Walding at the plate, Ron Biga called for a suicide squeeze, but the bunt was missed and Doug Joyce was thrown out at the plate.
The score stayed 1-1 with both teams making big plays in extra innings. The ThunderBolts got a lift from Andrew Brauer in the 14th, when Lester hit a two-out single to right with two outs. Harrilchak tried to score from second but was thrown out at the plate.
Mike Torres stepped up with a defensive gem in the 16th. His diving catch on a Ganek line drive ended the frame with Steven Liddle left at second.
The ThunderBolts left four men in scoring position in the first five extra innings before they broke through in the 16th. Joyce led off with a double and stood at third with two outs when Walding provided the base hit that won the game 2-1.
Colin O-Connell (2-0) pitched two shutout innings of relief for the win and Michael Hepple (0-1) took the loss.
The ThunderBolts will begin a three-game series with the Normal CornBelters at Standard Bank Stadium on Friday night. Dyllon Nuernberg (3-1, 2.68) will start for the Bolts against Normal's Ryan Demmin (4-2, 2.04). It is Budweiser Fill 'R Up Friday at the park and first pitch is scheduled for 7:05. The broadcast can be heard on wcthunderbolts.com.