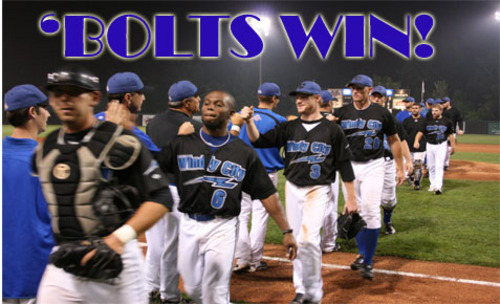 CRESTWOOD, IL-- Windy City ended a 15-game home stand by splitting a double-header against the Normal CornBelters Thursday evening at Standard Bank Stadium. The ThunderBolts (15-22) fell to the CornBelters (19-17) in the first game of the twin bill, but battled back to win Game 2 6-4.
The CornBelters got revenge on their 2-0 loss in the first game of this series, beating the ThunderBolts 2-0 in the middle game. Luis Noel pitched a gem going 6.1 innings with no runs and striking out seven. Windy City had chances, but stranded six runners throughout the first game of the double header. Noel (3-2) earned the win, while Wickswat dropped to 2-5 despite allowing just two runs in seven innings pitched. Alan Oaks picked up his first save.
Normal struck first in Game 2 of the double header, but this time the ThunderBolts responded quickly. Windy City knotted up the game thanks to an RBI double from Ryan Soares. The CornBelters regained the lead a half inning later, but that would be the last time they would be ahead.
The 'Bolts then opened up the game, plating four runs in the 2nd inning. Adam Davis, Louie Templeton, and CJ Gillman all scored thanks to Mike Torres and Zach Aakhus. Windy City went ahead 5-2 and never looked back.
The CornBelters took two of those runs back in the 3rd and chased out starter Daniel Cropper. Colin O'Connell came in for relief of Cropper and along with Tyler Claburn and Michael Click, kept the 'Belters from scoring any more.
In the 5th inning Davis provided an insurance run singling home Andrew Brauer with two outs.
O'Connell picked his first professional win as Tyler Lavigne (2-2) was the losing pitcher and Michael Click (7) picked up the save.
The ThunderBolts end the home stand 8-7 and hit the road for the first time in three weeks. River City is the first visit for Windy City as Travis Tingle (2-2, 3.86) will take the mound against the Rascals' Brett Harman (0-4, 2.95). A live broadcast can be heard on wcthunderbolts.com