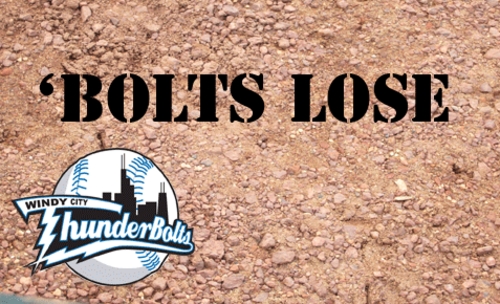 CRESTWOOD, IL— One team that Drew Rucinski has no problem facing in the Frontier League is the Windy City ThunderBolts. The Rockford starter pitched his second straight gem against the 'Bolts working seven scoreless innings, striking out nine, and allowing just three hits. Windy City (13-21) also saw a great outing from its starter Travis Strong, but he was outdueled as the Aviators (7-25) avoided the three-game sweep with a 2-1 win.
Rockford first got on the board with solo home run from Matt Greener. Rockford's third baseman sent a full count pitch over the left field wall for a 1-0 Aviators' lead.
Both pitchers worked deep into the game and kept either team from scoring again until the 8th inning. Strong left the in the 7th inning after just one pitch due to some discomfort. Strong's six innings matched a season high. Rucinski finished off seven innings with no runs and nine strikeouts.
The Aviators scratched across their second run in the eighth without a hit. Michael Mergenthaler reached on a throwing error after he struck out on a pitch in the dirt. Three walks brought him all the way around to score.
Windy City tightened it a little against Rockford closer Nick Cicio in the ninth. Zach Aakhus hit his third home run of the year to make the score 2-1, but Cicio struck out Ryan Soares and Andrew Brauer to end the game.
Soares finished with three hits, the only ThunderBolt with any against Aviators starter Rucinski.
Rucinski (2-5) picked up his second win of the year against the Bolts. He has not allowed a run in 15.1 innings against Windy City this year. Strong (1-4) was the tough-luck loser, allowing only three hits in six innings. Cicio picked up his fourth save.
The ThunderBolts will begin a three-game series with the Normal CornBelters on Tuesday night at 7:05. Kids eat free at Standard Bank Stadium for a Tuesday night home game. Dyllon Nuernberg (0-1, 2.84) will make his third start for the Bolts against Normal's Drew Provence (2-1, 3.30). Fans not at the park can hear the broadcast at wcthunderbolts.com.