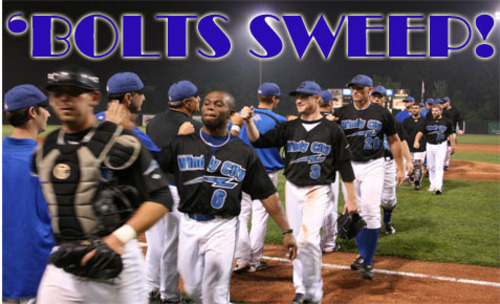 CRESTWOOD, IL – The ThunderBolts scored three runs in the first inning on their way to a 6-2 victory at Standard Bank Stadium Thursday night, completing a sweep of the Schaumburg Boomers.
Travis Weaver led off the ballgame for the Bolts with a single and Mike Torres followed that up with a single. Zach Aakhus scored Weaver on a sacrifice fly and Torres crossed the plate on Chad Cregar's fifth double of the year. Cregar later scored on a Brandon Decker sacrifice fly.
Windy City added to their lead without getting a hit in the second. Weaver and Torres each walked. Then, after a wild pitch, Aakhus hit another flyball that scored Weaver from third.
In the third inning, Cregar blasted his fourth home run in as many games to left field to extend the lead to 5-0. After the home run, Cregar had reached base safely in ten straight plate appearances. The stretch included three home runs and four doubles. He went 2-3 in this game and was hit by a pitch.
The final run was scored in the fourth when Chris Wade reached on an error and scored on Matt Grosso's first career RBI single.
The 6-0 lead held up into the ninth as Mike Recchia pitched six shutout innings. The Crestwood native allowed just four hits and has not given up an earned run in 12.2 innings this season.
The Boomers made it a ballgame in the ninth, scoring two runs on two hits and two walks. But with two outs and men at second and third, Tyson Corley locked down his second save of the year, striking out Jereme Milons.
Recchia (1-0) earned the win and Robby Donovan (0-1) allowed five earned runs in five innings, taking the loss.
The Bolts will take to the road for the next three games in Traverse City. Duke Dykeman (0-0) will get the start for the ThunderBolts on Friday in the Beach Bums' home opener. He will be opposed by Brooks Belter (0-0). First pitch is scheduled for 6:05 CDT and the game broadcast can be heard on SportsJuice.com.

Box Score