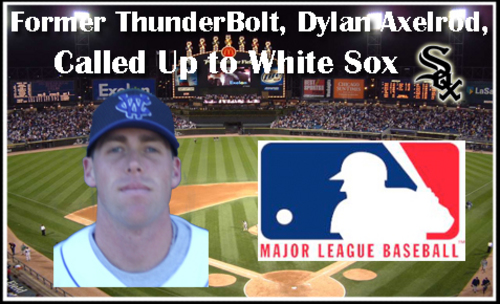 Between games of Monday's doubleheader in Minnesota, the Chicago White Sox called up former ThunderBolt Dylan Axelrod, making him the first ex-Bolt to reach the highest ranks of professional baseball.
Axelrod joined the ThunderBolts on May 15, 2009 and he instantly became a success out of the Bolts bullpen. After earning a win, throwing four shutout innings on May 27 against Lake Erie, he became the team's closer. He went on to convert five out of five save chances and on June 20, he entered the starting rotation, the first time he had started as a professional.
Axelrod remained in the ThunderBolts starting rotation for the remainder of his time in Crestwood. He went 2-1 with a 2.42 ERA in eight starts. He allowed seven runs over four innings in a July 5 appearance at Gateway, but compiled an ERA of just 1.11 in his other seven starts. He appeared for the West Division squad in 2009's Frontier League All-Star Game.
In his final appearance as a ThunderBolt, Axelrod pitched eight shutout innings, allowing just four hits and striking out a then career-high eight Evansville Otters. Three days later, he was signed by the Chicago White Sox who assigned him to their class-A affiliate in Kannapolis.
He rose through the White Sox system quickly, pitching in just two games with Kannapolis before he was promoted to high-A Winston Salem, where he joined the starting rotation and went 2-1 with a 1.91 ERA in five starts.
2010 was a banner year for the former ThunderBolt right-hander. He spent most of the year in Winston Salem and made a brief two-start appearance with Double-A Birmingham. During 2010, Axelrod went 8-4 overall with a 2.06 ERA.
He began 2011 with the Birmingham Barons and started opening day. He was eventually selected to the Southern League all-star team, but did not appear in the game because he had been called up to Triple-A. His success continued with the Charlotte Knights, and at the time of his promotion to the big leagues, he led all White Sox minor leaguers in ERA (2.69), strikeouts (132), opponents' batting average (.227) and WHIP (1.07).
Axelrod joins Chris Oxspring as the only former inhabitants of Standard Bank Stadium (nee Hawkinson Ford Field) to appear on a Major League roster. Oxspring pitched in 14 games for the Cook County Cheetahs in 2000 before appearing in 5 games as a San Diego Padre in 2005.