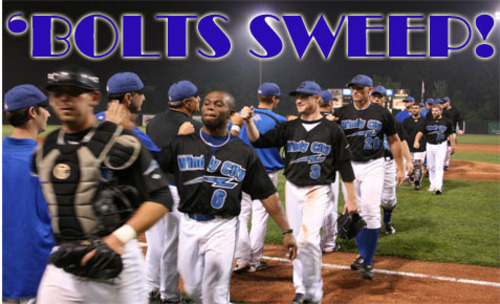 JOLIET, IL – Devin Shepherd's grand slam highlighted a seven-run second inning that gave the ThunderBolts an early lead in a 14-5 rout of the first place Joliet Slammers on Thursday night at Silver Cross Field.
Windy City scored in the first inning for the second night in a row. They loaded the bases with no outs and Devin Shepherd scored Brandon Anderson with a groundout.
The real fireworks started in the third. Anderson led off with a double, Alex Chavez walked and Mike Torres was hit by a pitch, loading the bases again for Shepherd. This time he sent the ball over the left field wall for a grand slam. The hit parade didn't end there. Jason James and Nick Kuroczko reached base and Chad Cregar doubled them both in. Cregar scored on Anderson's second hit of the inning.
Windy City added three runs in the fourth with James' two-run double the big hit. Cregar added a sacrifice fly.
The Bolts posted solo runs in both the fifth and sixth. Torres' second homer of the year made it 12-0 and Chavez came up with an RBI single in the sixth, scoring Cregar, who had been hit by a pitch.
They finished their scoring in the ninth, when Nick Kuroczko's single scored Larry Pempek.
Joliet had one big offensive spurt in the game. After Matt Jernstad had allowed just two hits in the first seven and two thirds innings, the Slammers came alive with six straight hits in the eighth. RBI knocks came from Hector Pellot on a double and Kyle Maunus and Sean Estand on singles.
The win for Windy City wrapped up a three-game sweep, the first of the season for the Bolts away from home.
Jernstad picked up the win (8-10) and Kevin Crimmel allowed 11 runs over 3.2 innings, taking the loss (7-5).
The ThunderBolts will return home for their final three-game series of the season starting Friday evening. It will be $1.00 beer night as well as Boomer Bobblehead giveaway at Standard Bank Stadium. On the field, Guido Fonseca (3-11) will get the call on the mound opposed by Washington's Gary Lee (3-6). Friday's game begins at 7:05 and can be heard on WXAV, 88.3 fm and wxav.com.