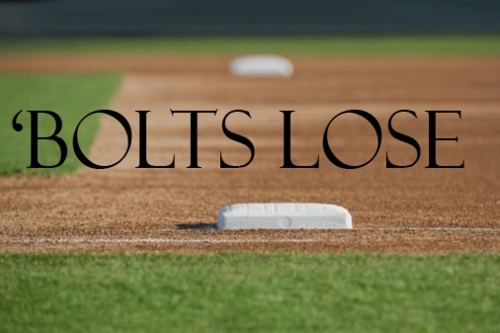 AVON, OH – The Lake Erie Crushers scored eight runs over the final two innings to defeat the ThunderBolts 9-5 at All Pro Freight Stadium Friday night. The loss drops the ThunderBolts 3.5 games behind Lake Erie for the final playoff spot.
The Crushers got their offense rolling early when Jodam Rivera tripled in the first and scored on a two-out double from Jason Taylor.
The score remained 1-0 through the fourth and in the fifth, the Bolts finally cracked the scoreboard. After consecutive singles for Tyler Keeble and Brandon Anderson to begin the inning, Mike Torres' squeeze bunt scored Keeble and Zach Aakhus' sacrifice fly gave the Bolts the 2-1 lead.
Guido Fonseca had retired seven straight batters and protected the 2-1 lead into the seventh inning, but struggled in that frame, giving up a home run to Kellen Kulbacki to tie the game. Then, Robby Kuzdale walked and Evan Sharpley singled him home with help from an Aakhus error that advanced Sharpley to third base. With Greg Johnson pitching, Chris Luick doubled home Sharpley and Jereme Milons singled home Luick, giving the Crushers a 5-2 lead.
The ThunderBolts weren't done fighting, scoring a run on a Nick Kuroczko single in the eighth but Kuzdale chased down a Chad Cregar fly at the warning track with two on to hold the Bolts to just the one run.
In the bottom of the inning, the Crushers ran away scoring four runs on just one hit. Wes Alsup walked all three batters he faced before Kurt Frymier walked in a run. Milons then came up with a three-run double to make the score 9-3.
Windy City scored two runs in the ninth on a pair of hits and an RBI groundout for Mike Torres. Anderson, who had doubled, scored on a passed ball, but that was all they came up with in the 9-5 loss.
Chris Allen pitched an inning of relief for the win (2-2) while Fonseca took the loss (3-11).
Game two of the series will be played on Saturday night at 6:05 CDT at All Pro Freight Stadium. Matt Jernstad (5-9) will take the mound for Windy City with Eric Gonzalez-Diaz (2-0) getting the call for Lake Erie. The game broadcast can be heard on Sportsjuice.com.
Box Score