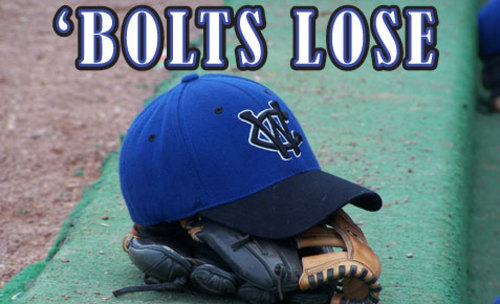 O'FALLON, MO – Stephen Holdren's sixth-inning home run put the River City Rascals on top 2-1 in a game they would eventually pull away to win 4-1 over the Windy City ThunderBolts Thursday night at T.R. Hughes Ballpark.
For the first time in the series, the Rascals were held off the scoreboard in the first inning, but they did strike first in the second when four straight singles began the inning. Danny Sawyer's infield hit scored Logan Parker to put River City in front, but that was all they got in the inning thanks to a double play that ended it. Bryant Cotton got a double play in each of the first four innings.
The ThunderBolts evened the score in the fifth inning. With two outs, Larry Pempek doubled and one batter later, Quentin Luquette popped up to center field. River City outfielder Eric Williams lost the ball in the lights and it dropped for an RBI double.
After giving up the second-inning score, Cotton pitched well and did not allow another hit until the bottom of the sixth inning, when Holdren hit his league-leading 20th home run of the year to set a River City franchise record.
The Rascals added another run in the seventh on a Jason Patton solo homer and essentially put the game away later that inning when Sawyer crossed the plate on an Eric Williams two-out base hit.
The Bolts couldn't get anything against the stout River City bullpen and they fell by the 4-1 final. Don Lisi pitched six strong innings for the win (5-1) while Cotton took the loss (5-7).
The ThunderBolts head out to Gateway to start a three-game series with the Grizzlies beginning Friday night. Guido Fonseca (2-8) will get the start in game one as the Bolts try to break a seven-game losing streak. He'll be opposed by Andre Caceres (1-1). The game begins at 7:05 p.m. CDT and can be heard on Sportsjuice.com.