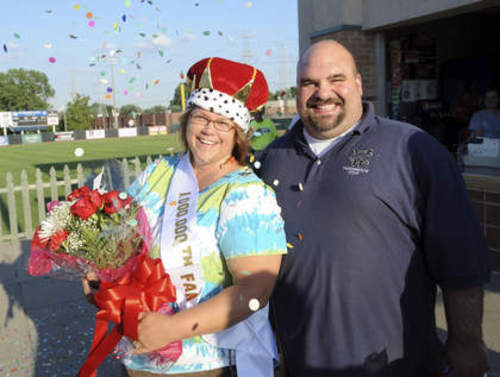 Photo Credit: Brett Roseman~Southtown Star

The Windy City ThunderBolts are proud to announce that Karen Kenny of Tinley Park was the 1,000,000 fan in franchise history. The moment happened at 6:23 pm on Thursday, August 11, 2011. Going into Thursday's game the official count was at 999,870. So when Karen Kenny was the 130th fan in the park after gates opened, she became a major part of team history.

Karen was given a crown, sash, flowers, and a plaque. She and her group of 14 were treated to free food and drink in our Party Box. Before the game at 7 pm she threw out a 1st pitch and was shown five boxes where she could only pick one. Possible prizes included $100 ThunderBolts' gift card, free hot tub with food, free suite with food, $1000 gift card to Key Lime Cove, or $1000 cash! Karen chose box #4 and won a free suite with food & drink for 25 people. General Manager Mike Lucas then threw in the $100 ThunderBolts Gift Card to add to her prize!

The entire Windy City ThunderBolts franchise is proud to pass this milestone and we look forward to the next million fans to come to Standard Bank Stadium!

ThunderBolts' 1,000,000 Fan Notes
- The official attendance numbers for the ThunderBolts date back to the 1999 season. This was the club's first season in the Frontier League (as the Cook County Cheetahs) and first year playing at Standard Bank Stadium (formally Hawkinson Ford Field). Not included in the number was the franchises 1995-1998 seasons as attendance was not recorded officially.

- Going into the 2011 season the club was at 932,661. It would be the 67,339 fan that came through the gates in 2011 that was the 1,000,000th.

- The club's best season regarding attendance was the ThunderBolts' 2009 season. 103,129 fans entered the park gates that year for a per-game average of 2148.

- The Cook County Cheetahs/Windy City ThunderBolts become the eighth team in Frontier League history to reach the 1,000,000th fan mark. Evansville, Gateway, River City, Rockford, Southern Illinois, Traverse City, and Washington are part of this 1,000,000 fan club.