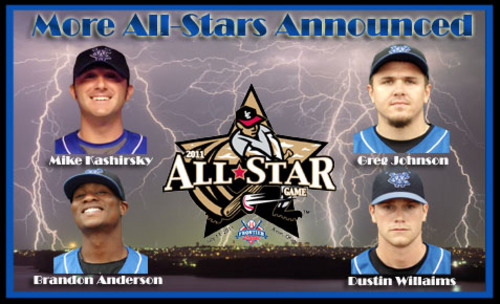 The Windy City ThunderBolts defeated the Normal CornBelters 5-3 on Wednesday night, keeping them a half-game ahead of the Joliet Slammers for first place in the Frontier League's East Division. In so doing, the team locked up the managerial position in this year's All-Star Game for skipper Mike Kashirsky.
Kashirsky is in his second full season as ThunderBolts manger and this will be his first appearance in the All-Star Game as the manager. He has also been selected as an all-star coach in 2006, 2007, 2009 and 2010.
Along with Kashirsky, pitching coach Cory Domel, bench coach Jon Mrugala and bullpen coach JT Scara will head to Lake Erie for the all-star festivities. It is the second straight appearance for Domel who went with the Oakland County Cruiser staff in 2010. The host Lake Erie Crushers staff will also be represented on the East Division coaching staff.
As part of his managerial duties, Kash was allowed to select the final three all stars for his division. He will be bringing two more ThunderBolts with him as reliever Greg Johnson and center fielder Brandon Anderson have been added to the East roster.
Starting pitcher Dustin Williams was added to the All-Star Game on Friday when Todd Privett's contract was purchased by the San Diego Padres organization. Privett was voted as an East Division All-Star as well, but will not participate as he joins the Ft. Wayne TinCaps (Class-A Affiliate)
Johnson, in his second season with the ThunderBolts, leads the Windy City bullpen with three victories and has a 3-0 record overall. He is tied for third in the league with 22 appearances. Johnson entered play on Thursday with a 2.12 ERA in 29.2 innings.
Anderson will be appearing in his second Frontier League All-Star Game. He represented the Kalamazoo Kings on the East squad in 2009. He entered Thursday with a .281 batting average. He ranks second in the league and first in the division in both runs (36) and stolen bases (23).
Williams will be making his first all-star appearance after he won the Jason Simontacchi Award last year honoring the rookie of the year. Williams ranks first in the East Division this year with six wins and leads the Frontier League with 67 strikeouts. His 3.90 ERA ranks him eighth in the East. He is coming off of a 140-pitch start in the win over Normal on Wednesday.
The new additions will join an already Bolt-laden East roster that also features Zach Aakhus, Devin Shepherd, Mike Torres and Chris Wade.