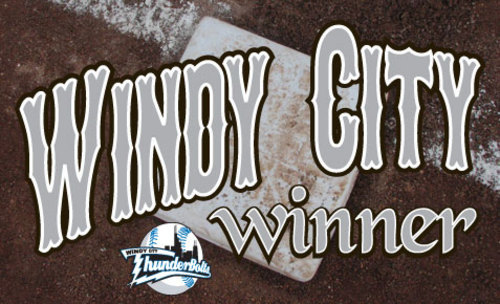 JOLIET, IL – Chad Cregar's grand slam highlighted a 12-hit ThunderBolts attack as Windy City defeated the Joliet Slammers 10-8 in the series opener at Silver Cross Field Wednesday night.
After the starting pitchers dominated the first three innings, the ThunderBolts broke a scoreless tie with a two-run Devin Shepherd home run in the fourth. Zach Aakhus, who had walked, scored ahead of Shepherd on the blast.
Joliet quickly responded with an Erik Lis solo homer in the bottom of the fourth, but Windy City broke it open in the fifth.
Ryan Basham doubled and Nick Kuroczko walked, but the two remained on third and second with two outs for Mike Torres. Torres singled a 1-2 pitch out to left field, scoring two runs and putting Windy City on top 4-1. After Aakhus singled and Shepherd walked, Chad Cregar sent a Kevin Crimmel pitch over the right field fence for the ThunderBolts' second grand slam of the week, putting them on top 8-1.
The Slammers fought back. They had just two hits through the first five innings against Matt Jernstad, but in the sixth, they sent eight hitters to the plate and scored three times on four hits. RBI came from Lis and Sean Estand, who each had a bases loaded single and Josh Flores, who hit a sacrifice fly.
The Bolts scored twice more in the seventh. Torres singled and Aakhus doubled. Shepherd then singled home Torres, and on a fielder's choice grounder that retired Aakhus, Shepherd crossed the plate after a pitcher's error.
Those turned out to be big runs as the Slammers kept fighting back. A two-run Bobby Leeper homer made it 10-6, and in the eighth, after back-to-back walks, a Flores double and David Fox groundout brought home two runs. In a big moment in the eighth, though, Flores got picked off of third base by Zach Aakhus, effectively ending the Joliet rally.
Wes Alsup struck out the side in the ninth, earning his first save and preserving Matt Jernstad's victory. Jernstad allowed four runs in six innings, improving to 3-3. Crimmel allowed eight runs in his first loss (3-1).
The Bolts continue their series with the Slammers Thursday night with another 7:05 game at Silver Cross Field. Matt Costello (2-1) will start for Windy City against Joliet's Billy Petrick (1-5). The game can be heard on WXAV 88.3 fm and wxav.com.
Box Score