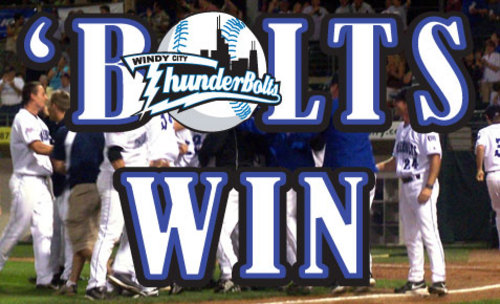 CRESTWOOD, IL – Matt Jernstad threw his second straight complete game as the ThunderBolts defeated the Evansville Otters 5-1 at Standard Bank Stadium on Tuesday night.
Jernstad was sharp from the get-go, retiring the first six batters he faced and striking out two.
In the bottom of the second, the offense gave him all the support he would need. With one out, Chase Porch and Chris Wade came up with back-to-back infield singles. Wade's hit gave him a ten-game hitting streak. Nick Kuroczko's single scored Porch to initialize the scoring and Pascual Del Real's bunt scored Wade to make it 2-0. Wade charged down the third base line on that play after Evansville pitcher Jeremy Thorne threw to first base.
The Otters got their only run on a Jamar Walton home run in the fourth. Walton's bomb was the first homer hit in a ThunderBolt game this season. It was also the last hit Jernstad would allow until the ninth inning.
Meanwhile, the ThunderBolts cemented their lead with three runs in the bottom of the fifth. Del Real started that rally with his first hit of the season. After Josh Womack was hit by a pitch, Brandon Anderson dropped a bunt single. Thorne threw the ball away on the hit, allowing Del Real to score. Womack crossed the plate when Ryan Basham lined a ball off Joe Spiers' glove. Zach Aakhus's sacrifice fly ended the day's scoring.
Thorne pitched a complete game for Evansville, allowing just three earned runs, but Jernstad was brilliant. He struck out ten and surrendered just four hits in the win. Thorne fell to 0-2 while Jernstad improved to 1-1.
The Windy City baseballers will be back in action on Wednesday night against the Evansville Otters at Standard Bank Stadium. Dustin Williams (2-0) will take the ball for the 7:05 first pitch. The game continues a three-game series and six-game homestand. The Bolts will be offering $1.00 hot dogs and soda during Wednesday's game. The game will also be broadcast on SportsJuice.com with pregame beginning at 6:45 CDT.