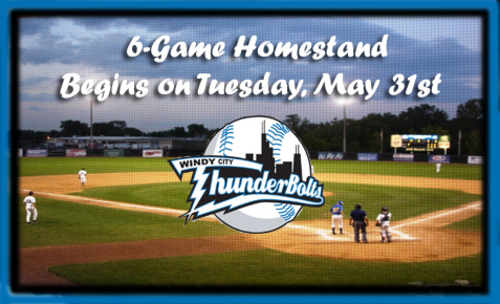 After a three-day vacation in the exotic locale of Washington, PA, the ThunderBolts return home for another six-game homestand starting Tuesday, May 31.
The fun begins at Standard Bank Stadium on Tuesday night, when the Evansville Otters enter town to start a three-game series with the Bolts. The opener of the series is a 2-for-1 Ticket Tuesday. All fans who buy their tickets at the box office for the 7:05 clash will be able to receive two for the price of one.
Wednesday night is another 7:05 game against the Otters. Fans are invited to open June at Standard Bank Stadium with $1.00 hot dogs and soda at all ballpark concession stands during the game.
The ThunderBolts will wave goodbye to the Otters on Thursday night, but not before their 7:05 game, which will feature $1.00 domestic draft beer all night on this Bud Light Thirsty Thursday.
Budweiser Fill 'R Up Friday the following night will ensure that all fans in attendance will get the same $1.00 beer deal as the previous evening. Starting on Friday, Windy City will be able to welcome the Florence Freedom to Crestwood for a three-game series. As was the case with Evansville before them, this will be the only chance to see the Florence ballclub in town in 2011. The series opener will be a 7:05 start time.
That series will continue on Saturday night with a dazzling fireworks show following the 7:05 game. Those fireworks will be presented by Saint Xavier University.
Before the ThunderBolts take off to see the wonders of Evansville on Tuesday, June 7, they conclude their big homestand with the finale against the Freedom on Sunday night, June 5, at 6:05. That night is a Standard Bank Family Night. Any fans buying tickets at the box office can receive four tickets, four hot dogs and four sodas for just $40.
And don't forget, there's plenty of good baseball to be seen. The ThunderBolts are off to another great start in 2011 and will look to continue their strong play throughout the upcoming six-game home stand.
Both individual and group tickets are now on sale for all of these games.
For more information please call 708.489.BALL or visit wcthunderbolts.com.