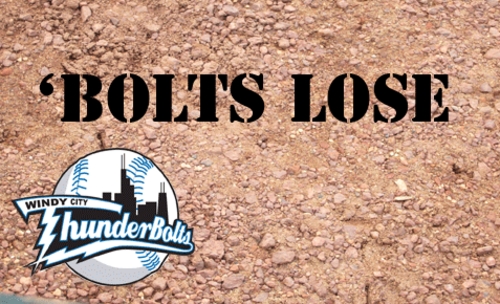 WASHINGTON, PA – Casey Barnes and Alan Williams combined on a two-hit shutout as the Washington Wild Things defeated the Windy City ThunderBolts 5-0 Saturday night at CONSOL Energy Park in Washington, PA.
Washington jumped on Bolts starter Bryant Cotton early, scoring on back-to-back doubles by Derek Perren and Kevyn Feiner to begin the game. Feiner stole third and eventually came in to score on a Scott Lawson RBI single.
Washington added to their lead in each of the next three innings. In the second, they got a one-out triple from Eric Stephens. The next hitter, Emilio Ontiveros, flew out to center field. Stephens tagged up and tried to score, and Brandon Anderson's throw home was on target but just late. The safe call drew an argument from ThunderBolts catcher Zach Aakhus and manager Mike Kashirsky, but it stood as the third Wild Things run.
In the third inning, Feiner struck again, reaching base for the sixth consecutive time in the series with a one-out double. Chris Sidick knocked him in on a base hit.
The scoring concluded in the fourth, as with two outs, Blake Ochoa and Perren stroked back-to-back doubles to make the final tally 5-0.
Windy City's offense was stymied all night by Washington pitching. Casey Barnes, making his professional debut, threw five innings, allowing just one hit and two walks. Alan Williams followed him and pitched the last four innings, also allowing just one hit and two walks.
The ThunderBolts' offense consisted of a Chris Wade second-inning single and a Zach Aakhus single in the sixth.
Barnes earned his first career win in the start (1-0) and Cotton took the loss, lasting just three and two thirds. Williams received a save for his four innings (1).
The rubber match of the three-game set is slated for Sunday evening at 5:35 CDT. Both teams will send their opening day starters to the mound. Lefty Todd Privett (2-0) will go for Windy City against lefty Vidal Nuno (1-1) for the Things. That game can be heard on SportsJuice.co with a 5:15 pregame.