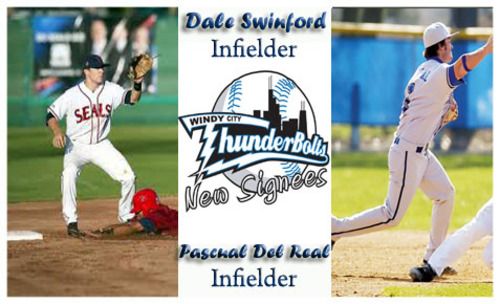 The Windy City ThunderBolts have added two new middle infielders to their Spring Training roster. Both Dale Swinford and Pascual Del Real spent last season in the Golden Baseball League. Dale Swinford is a 25-year-old right-handed slugger out of California. He played the 2009 season with the Chico Outlaws. In 65 games, he batted .285 with 22 RBI and 27 stolen bases. Last season, he played 55 games with the Victoria Seals. With the Seals, he racked up a .283 batting average while driving in 16 runs and stealing 9 bases.

Pascual Del Real is 24 years old and played college baseball with the Sycamores of Indiana State. After two quality season in the Missouri Valley Conference, he played his first year of professional baseball with the Chico Outlaws in 2010. He appeared in 63 games and batted .274 with 2 home runs and 22 RBI. Both infielders look to find their spot on the ThunderBolts 2011 Opening Day roster.

The Windy City ThunderBolts are a member of the twelve-team Frontier League, the oldest professional independent baseball league in the nation. The ThunderBolts open the 2011 season at Standard Bank Stadium on Thursday, May 19th. Season tickets, flex plans, and all group tickets (including suites, picnics, party box, & spa) are on sale now! Single-game tickets for the 2011 season go on sale Saturday, April 30th. For more information please call 708.489.BALL or visit wcthunderbolts.com.