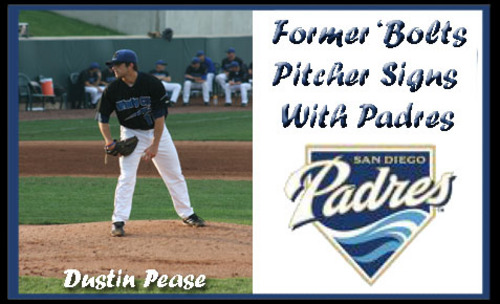 Former Windy City ThunderBolt, Dustin Pease, was recently signed by the San Diego Padres. This signing brings the number of former ThunderBolts acquired by Major League teams up to 17 since the beginning of 2009. Dustin Pease is a 6'0" left-handed pitcher out of Maryland. Pease played four years of baseball at Mount Saint Mary College, a Division I program in the Northeast Conference.
After a successful college career, Pease headed north to play for the Winnipeg Goldeyes of the Northern League. He enjoyed plenty of success pitching in relief having a 3.22 ERA in 109 innings pitcher over the course of the 2007 and 2008 seasons.
Dustin Pease played the 2009 season for the ThunderBolts in the Frontier League. Pease pitched in 30 games and started 21 of them. He garnered a 12-7 record and 3.85 ERA with 106 strikeouts in 133 innings. Pease was a big part of the pitching staff that led to the ThunderBolts 3rd consecutive playoff appearance.
Pease then headed to the Wichita Wingnuts for the 2010 season. Dustin set an American Association record for appearing in 54 games. Not only was he durable, he was effective with a 6-1 record, 2.45 ERA and 64 strikeouts in 55 innings. Pease's remarkable year earned him an award for Wingnuts pitcher of the year.
In 2011, Pease will be making his first appearance in the affiliated ranks. The 25-year old lefty has been moving in the right direction and will hope to make a big splash in the Padres organization. Pease is yet another example of former ThunderBolts finding homes with Major League organizations. It will just be a matter of time when a 2011, ThunderBolt leaves the friendly confines of Standard Bank Stadium for his shot at the Majors.


The Windy City ThunderBolts are a member of the twelve-team Frontier League, the oldest professional independent baseball league in the nation. The ThunderBolts open the 2011 season at Standard Bank Stadium on Thursday, May 19th. Season tickets, flex plans, and all group tickets (including suites, picnics, party box, & spa) are on sale now! Single-game tickets for the 2011 season go on sale Saturday, April 30th. For more information please call 708.489.BALL or visit wcthunderbolts.com.