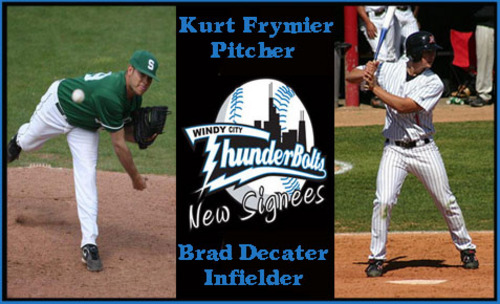 The Windy City ThunderBolts look to sure up their bullpen with the signing of Kurtis Frymier. Frymier began his collegiate career with Daytona State College. After playing two seasons for the Falcons, he moved to East Lansing, MI to play for the Michigan State Spartans. In Frymier's two seasons with the Spartans he appeared in 47 games and had a 4.57 ERA while compiling 10 saves. The right-handed pitcher also struck out 50 batters in 65 innings over the 2009 and 2010 season.

Following his successful collegiate career Frymier did not have to travel far as he headed to play for the Oakland County Cruisers. In 12 games with the Crusiers he pitched in 15 innings and only gave up 2 runs. He also struck out 14 batters and attained 2 saves. Frymier will be an important piece to the puzzle as he will likely be pitching in key situations late in games with the ThunderBolts.

Another recent signee by the ThunderBolts was Brad Decater, an infielder who was drafted in the 36th round by the Baltimore Orioles in 2010. Before getting drafted by the Orioles, Decater played for Cal State Northridge in 2010. In 91 at-bats, Decater had a .319 average while piling up 4 home runs and 23 RBI. His professional career began with the Bluefield Orioles, a rookie affiliate in the Appalachian League. He spent most of his time at third base while batting with a .213 average in 45 games. He also hit 10 doubles with 11 RBI. Decater will look to get his hitting stroke back on the right track as he heads into Crestwood to play for defending East Division Champion, ThunderBolts.

The Windy City ThunderBolts are a member of the twelve-team Frontier League, the oldest professional independent baseball league in the nation. The ThunderBolts open the 2011 season at Standard Bank Stadium on Thursday, May 19th. Season tickets, flex plans, and all group tickets (including suites, picnics, party box, & spa) are on sale now! Single-game tickets for the 2011 season go on sale Saturday, April 30th. For more information please call 708.489.BALL or visit wcthunderbolts.com.