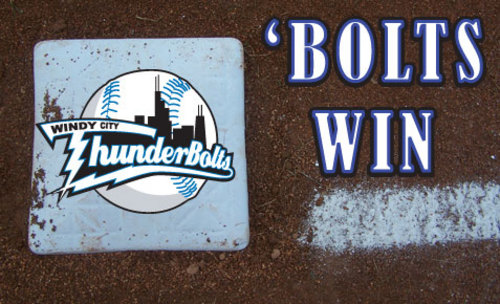 JT Restko paced the ThunderBolts with three hits and four runs batted in as Windy City defeated the Washington Wild Things 7-1 at CONSOL Energy Park in Washington, PA Tuesday night.
The Wild Things did the game's first scoring when John Delaney singled in Michael Parker in the bottom of the first inning. But it was all T-Bolts after that. Sean Toler made his first professional start Tuesday night and his first appearance in a Windy City uniform. He threw five innings allowing just that one run on five hits and striking out six.
The offense for the Bolts kicked in around the third inning. Restko led off with a single and after Michael Torres's double, the pair of them scored on a Gilberto Mejia base hit. The lead was increased to 5-1 in the fourth when Zach Aakhus and Ryne White each singled to begin the frame. Restko followed that up with a three-run blast to left, his seventh home run of the year.
The scoring concluded in the fifth when Ryan Basham and Jeremy Hamilton were each hit by pitches. Basham came in to score on an Aakhus double and Restko's single drove in Hamilton.
One night after wildness led to the ThunderBolts' demise, three pitchers combined for only one walk on Tuesday night. Thomas Mueller pitched three innings out of the bullpen, allowing just one hit, and Ryan Quigley struck out the side in the ninth to finish the game. Overall, Bolts hurlers had 14 strikeouts. Toler picked up his first professional win (1-0) while Justin Edwards took the loss for Washington (2-1).
The Bolts and Wild Things finish their series tomorrow night at 6:05. Dustin Williams (2-3) makes the start for Windy City against Billy Muldowney (0-0), making his fourth start for Washington. The game can be heard on WXAV 88.3 fm.