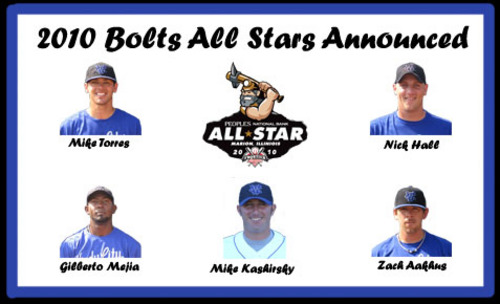 The Frontier League announced its rosters this week for the 2010 All-Star Game and there was no scarcity of ThunderBolts making the final cut. Gilberto Mejia, Zach Aakhus, Michael Torres and Nick Hall were all named to the East Division team. Both Mejia and Aakhus were voted in as starters.
For Mejia, it is the second consecutive year he has been named an All Star starter and the third straight year he has been elected to the team. He is hitting .279 with six doubles and a league leading five triples. He is fifth in the Frontier League with 18 stolen bases.
Aakhus is also a second time All Star as he has been voted a starter in each of his two years in the league. While splitting time between catcher and right field, Aakhus has hit .361 in 28 games. He will start behind the plate in the All-Star Game.
Both Torres and Hall will be making their first appearances in the game. Torres, a rookie out of Texas, is second in the Frontier League with a .355 batting average. He will be a backup infielder in the All-Star Game. Hall is 3-1 out of the ThunderBolts' bullpen with a 1.47 ERA. He has allowed runs in only one appearance this year. His six saves rank fourth in the league.
The ThunderBolts have several players on their roster that still may be considered for the game. East Division manager Gera Alvarez, the manager of the division-leading Oakland County Cruisers will name three more players this week.
On Tuesday, ThunderBolts manager Mike Kashirsky was added to the East Division coaching staff for next week's Frontier League All-Star Game. Kashirsky, in his first full season as ThunderBolts manager, will be making his fourth appearance as an All Star coach, and his second in a row. Gera Alvarez of Oakland County will be the manager of the East Division squad by way of coaching the Cruisers to the best first half record in the division.
The 2010 Frontier League All-Star Game will be played at Rent One Park in Marion Illinois, home of the Southern Illinois Miners. The game will be held on Wednesday, July 14 at 7:05. It will be the culmination of a three-day event including a home run derby and celebrity softball game on Tuesday night. More information on the All-Star game is available at southernillinoisminers.com. Complete All Star rosters can be found at frontierleague.com