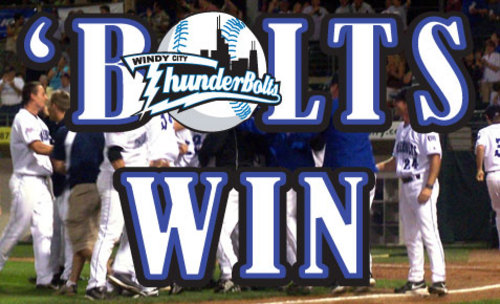 Windy City used a big six run eighth inning on Saturday night to defeat the Washington Wild Things 10-2 at CONSOL Energy Park in Washington, PA.
The ThunderBolts went on top for good in the third when a Denny Duron error allowed Kent Gerst, who had doubled and Mike Sullivan, who had grounded into a fielder's choice, to score. Washington answered in the fourth when Luis Rivera tripled and scored on a groundout to cut the Windy City lead to 2-1.
After the Bolts added another run in the fifth, Washington answered again with a Chris Sidick solo home run in the bottom of the inning. That was all the scoring Washington would do, though. After Zach Rosenbaum had allowed four runs in 5+ innings, the Wild Things bullpen imploded in the eighth.
Matt Lyons started the inning by walking Vinnie Scarduzio. Mike Torres then singled, and Dan Jordan, trying for a sacrifice bunt ended up reaching first base with his forst hit this season. The Wild things turned to Matt Vieira, but things didn't get better fast. With the bases loaded, Gilberto Mejia hit a grounder to third which Kyle Suprenant fired home. Catcher Billy O'Conner could not handle it though, and the ThunderBolts had scored on another error. Kent gerst had two RBI in the inning with a single. Overall, the centerfielder collected three hits, two RBI and scoerd three times. J.T. Restko finished the eighth inning scoring with a sacrifice fly.
Brent Solich picked up his first win of the season (1-1) going 5.2 innings. Greg Johnson and Bradley Blanks combined to shut down the Wild hings in relief. Zach Rosenbaum (0-1) didn't pitch poorly, but took the loss for Washington.
Windy City and Washington finish up their three game series on Sunday night. The pitching matchup is Ricky Meinhold (0-0) going for the ThunderBolts against Zach Groh (1-0). The game will be aired on SportsJuice.com with pregame coverage to begin at 5:20. The game is scheduled for a 5:35 Central start time.