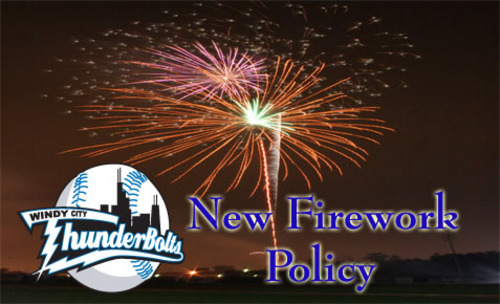 After the Saturday, May 22nd fireworks night game vs. the Kalamazoo Kings a number of concerns were raised on how the Windy City ThunderBolts could better serve the interests of everyone that is involved with our post-game fireworks shows. After the extraordinary circumstances of both games of the May 22nd doubleheader going into extra innings, the post-game fireworks show took place at about 12:45 AM Sunday morning. With this being the first issue with a late fireworks show, the ThunderBolts never had the need to have a fireworks policy. However after almost eight hours of baseball put the ThunderBolts in tight spot to try and satisfy both the interests of the fans at the game, and the residents surrounding Standard Bank Stadium.

In effect immediately is the new club policy for post-game fireworks game nights:

- No weekday fireworks show can start after 10:45 PM.

- No weekend fireworks show can start after 11:15 PM.

- Any fan holding tickets to a fireworks night game where the show could not go on as planned because of the curfew, they will be allowed to exchange the ticket for any game for the rest of 2010 season, including future fireworks nights. If it is late in the season, and a future firework night does not exist, then games for the 2011 season would be made available for exchange.

The Windy City ThunderBolts thank you for your understanding.